In Brief
We are a team of young, friendly, and ambitious young people, consisting of senior web developers, graphic designers, and web designers, QA specialists, and project managers. We are constantly improving and enhancing both our team and project development strategies we use.
More than ten years on the world market and more than six hundred of successfully realized projects give us the right to guarantee the best quality, reliability, and stability to our clients. In order not to get blurred in the diverse abundance of services provided worldwide nowadays and to be in touch with the latest trends, we only use up-to-date technologies, such as Adobe Photoshop, Adobe Illustrator, CSS, HTML, Bootstrap, Javascript, MySQL, PHP, SVN, WordPress, etc in our work to meet ever-growing demands of our clients.
While working on your project all the communication is carried out through easy and accessible channels. We are ready to provide you with daily/weekly reports of the work done that will help you organize the whole work process in the most effective way. Want to join us – send your CV!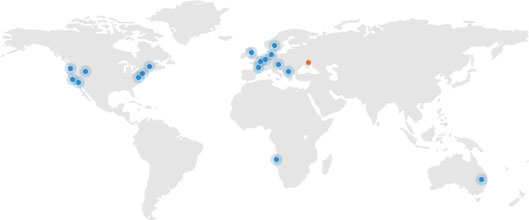 ---
Mission
Our values & the key to great relationships.
01.

Make our products easy to use
We try to create our products for all people without exception, so our target audience is all WordPress users. You do not have to possess any special skills to work with our products. All plugins that we create do not have a huge number of unnecessary settings or sophisticated options, so you just install the product and use it.
02.

Ask what the customer wants
Being a client-oriented company, we make it our mission to understand our clients' demands and help them make their wishes come true. Our main idea is to provide an individual and unique approach. Every single project is treated and examined with great thoroughness, attention, and devotion. A team of dedicated experts is ready to do their best to bring to life any ideas you have! For the most curious ones – we have created a special offer.
03.

Be the trusted brand in the world
To remain competitive in the world market it is essential to produce products of the best quality. Beyond the shadow of a doubt, we can proudly proclaim – that is exactly what we do! There is no need to prove it anyhow, for it is our clients' testimonials that appear to speak louder than words.
---
Some Facts About Us
As BestWebSoft'ers, we continue to learn and grow every day. And we make sure to have fun while we're at it!
1057
Avr. weekly SVN commits