Share Your Content on Facebook
A great way to obtain positive feedback from your visitors, get media exposure, and customer validation for your brand
Change Size
You can easily change Facebook buttons size and upload a custom image for the Follow button to make it perfectly suitable for your website design.
Choose Language
Facebook functionality allows you to choose a language or just make it change automatically depending on the user's IP using Multilanguage plugin.
Customize Meta Tags
Meta image and meta description option will help you to set certain picture and text to appear on every post when someone shares it.
Change Position
Using this powerful plugin, you can add the buttons wherever you like: before, after the content, add it to a widget or everywhere else using the shortcode.
Customize the Appearance of Like & Share Buttons Easily
Powerful and easy-to-use WordPress plugin with more than 30K active installs is the best way to add fully functional and customizable Facebook Follow, Like, and Share buttons to your content and widget areas
You can easily change the Like & Share buttons layout to standard, box count, button count, or just button.
Set the layout width and even change the theme of the button display for the light or the dark one.
For better code validation – use the build-in function for the automatic Tags formalization.
This way, the like count will be displayed and suit your website design perfectly.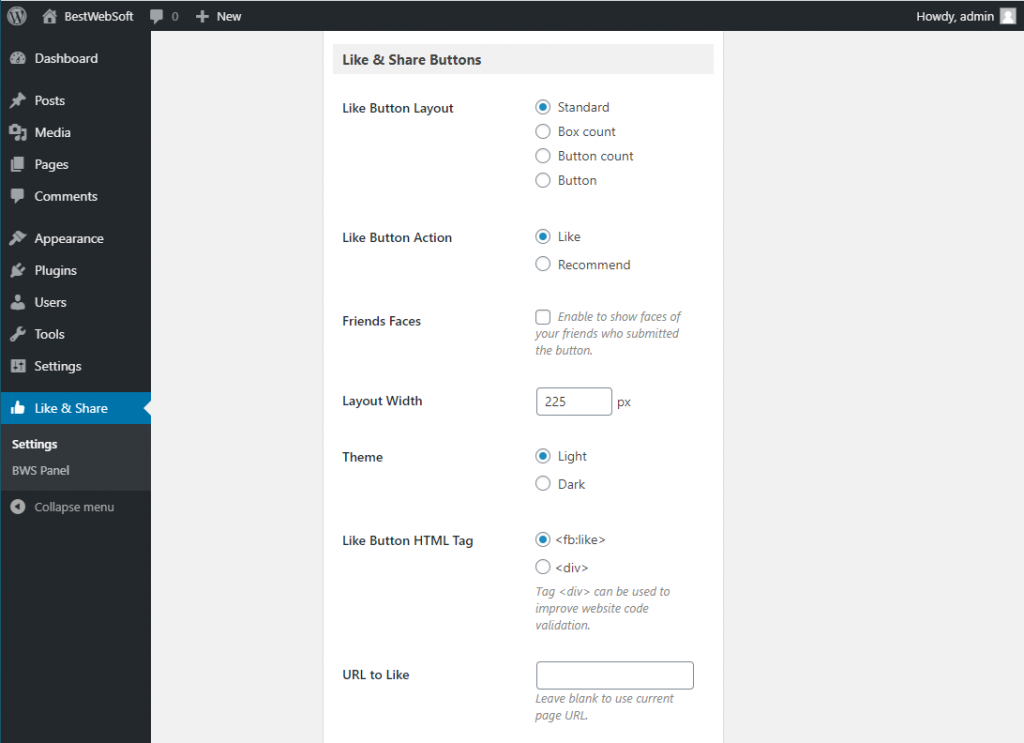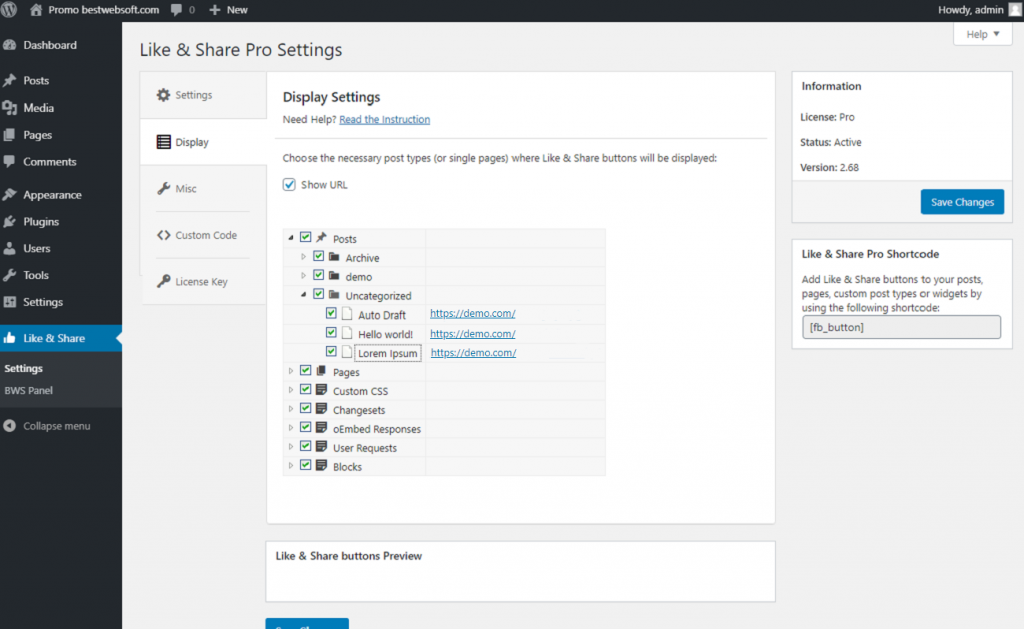 Display settings are a great feature that makes it possible to automatically include/exclude certain posts/pages from adding Facebook buttons.
Just mark the necessary checkboxes to choose the pages where the Like and Share buttons will be displayed and save changes.
BestWebSoft's Like & Share Preview
Here we added the example of Facebook buttons for you to see and test.
The buttons were added with the shortcode and displayed this way to show how they will look before and after the content. Button size is large, images are default, and the theme is light. The first button is Follow ("My Page"), which allows your users and visitors to see your Facebook account and follow it. It is a great way to collect more subscribers to your Facebook RSS.
Facebook's "Like" button allows people to "like" the article you publish or even the entire website if you indicate a custom link in the "URL to Like" option. You can also customize the layout with the like counter to make it match all your requirements.
Facebook "Share" button adds the ability for your visitors to share your posts or pages on their Facebook pages. This way you can attract more visitors/users/customers to your WordPress website.
Display Facebook "Feed" on your WordPress posts, pages, and widgets using the shortcode or display settings. Let users see and interact with the timeline and write direct messages right to your Facebook account.
Ready to Get Started?
Choose the best plan to explore more amazing and powerful Like & Share features.