Gallery PRO plugin by BestWebSoft allows you to manage your pictures quickly and easily. Creating Galleries is a perfect solution when you have a lot of pictures which should be sorted and described. Gallery PRO is aimed to help you make your WordPress page nice and comfortable.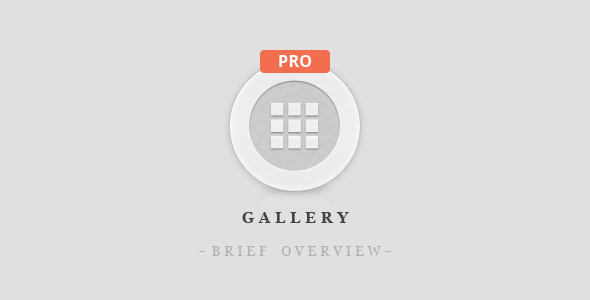 With Gallery Pro plugin it is possible to integrate as many galleries as you want into your blog or website. You can add a great number of images and a description for every gallery, display them on one, or several separate pages. Also, you can upload HQ images. Moreover, the plugin updates regularly and it is simple in use. This plugin is available in a free and pro versions.
Create any Amount of Albums
You have a lot of pictures, they are related to different topics and it is not right to put them into one album? Don't worry. The Gallery Pro plugin creates any number of albums within the gallery with one keystroke. So, it will be no trouble to create a gallery even for beginners.
Add Description to Each Album
You want to clarify the main idea of your album and explain every image? With this feature you can add any description to every album. Moreover, you can change font, size, placement and other usual settings in your description.
Set featured image as an album cover
To do it find a featured image block on the gallery editing page.
Then click on the featured image that should be an album cover
It will be no harder to remove the image you choose by clicking on "Remove featured image"
Upload any Number of Photos
Sometimes it can be uncomfortable to divide images into several albums, but you cannot add them into one because of limitation of image quantity. With Gallery Pro by BestWebSoft you can easily upload any amount of images into any album.
Add a Single Gallery via a Shortcode
Shortcode is an amazing feature that helps a blogger to insert any content with minimum efforts. With the help of Gallery Pro, you can insert any single gallery into your page or blog. To activate it, you have to copy/paste a shortcode, and add it into the text window.
Sort Settings
Gallery Pro Plugin allows you to change settings by sort. It can be sorting by name, data, random, etc settings or sorting by order ASC or DESC. This feature helps to keep all posts well-disposed.
Add Caption and Alt Tag to Each Image
With adding of caption (or title) and alt tag (pop-up title) readers and visitors of your blog can easily find out what is on the picture without opening description or reading posts.
It will appear in your gallery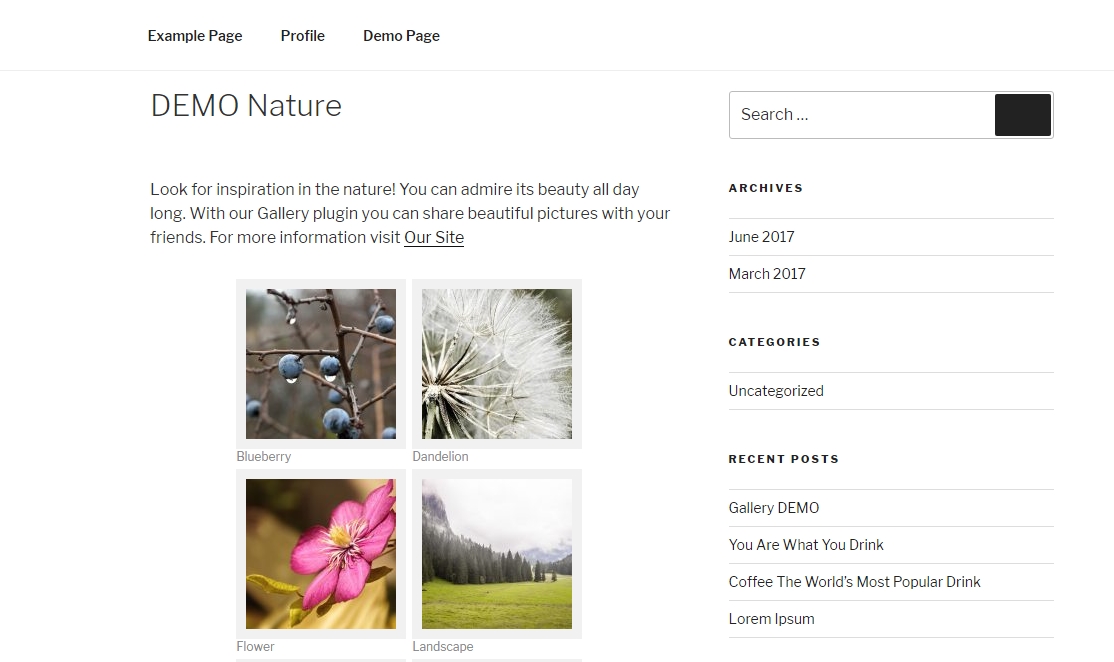 As well as under the image while viewing
Change the size of thumbnails and photos
You can simply change sizes of album cover thumbnails and images in the album. All you need is to open the settings window and indicate the necessary dimension.
Set a number of pictures to display in one row in the gallery album.
And your gallery will contain three images in row.
Check a slide show option
Mark checkbox "Start slideshow", choose an interval and enjoy an exciting slideshow while viewing your gallery.
Add comments to a Single Gallery
Gallery PRO by BestWebSoft provides a possibility to add your comments to a single gallery. Just enjoy your images and collect feedback.
Select "self" or "blank" for opening links
If necessary, you may customize links in your gallery. All you need is to choose the needed options.
Your visitors will appreciate comfortable interface of your gallery.
Pick a background color and the lightbox transparency
Also with Gallery Pro you have an ability to set the lightbox transparency and change its background color. These settings are useful for album appearance. Make your gallery unique and stylish with one single click in the settings menu.
For example, this background
Can be easily turned into this one
Choose original background color and transparency. It could be any color you like and any number of transparency from 1 to 10.
Change a lightbox image size
Pick those image size which would be perfect for your display whether it is PC, tablet or a smartphone.
Image description in the lightbox
Gallery PRO by BestWebSoft provides you with possibility to see the description under each image. This is especially handy if you have a lot of pictures from different places which should be described in details.
Add Button with URL to the lightbox
Adding the URL button to your gallery as easy as the rest. Just enter the required address…
and link will appear in your gallery
Like Buttons for Social Networks
Do you want to share your posts and galleries on different websites? With Gallery Pro plugin users can add like buttons in the lightbox for the following social networks: FaceBook, Twitter, Google Plus One, Pinterest. This feature is available only in Pro Version.
You will find new buttons under the image
Create Slug for Gallery Item
Moreover, you can also create and change slugs for gallery items. It will be useful for changing of URL and Permalinks
Friendly customer support
Gallery PRO plugin users first get answer from our customer support. It usually take one business day instead of five. Just click on "Support Forums" in left corner menu.
BestWebSoft Plugin Gallery Pro is a perfect choice for users that like simple and functional tool for performance of different actions related to displaying, editing, and sharing of your images. Besides, Gallery Pro has efficient and rapid support team, and using Pro Version you will get a response within one business day.
Get Gallery Pro here: https://bestwebsoft.com/products/gallery/buy.