Nowadays, WordPress is evolving almost at the speed of light, with bunches of new widgets, plugins and themes being released each day. While it hardly takes an experienced user a lot of time to browse, try out and evaluate new plugins, a beginner can easily get lost in the labyrinth of new releases. However, with a little extra help, finding a plugin that will work best for you will be easy and problem-free, and we are here to offer you a helping hand.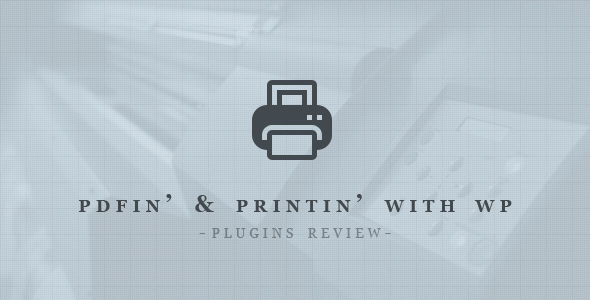 Creating PDF documents is a relatively new WordPress feature. Nonetheless, there's already a number of plugins elaborated to add this feature to your website. Therefore, we decided to take a closer look at such plugins as PDF & Print, PDF24 Article to PDF, WP Post to PDF Enhanced and Print Friendly and PDF Button, which are among the leaders in WordPress PDF-related plugins.
So How Do They Compare?
At the first sight, there may be little difference between these plugins, as all of them are designed to let you create PDF documents of the posts on your website. While this function is carried out well enough with all plugins, it is the smaller details that can make you choose one plugin over another.
1) PDF & Print
PDF & Print is one of the promising plugins developed by Bestwebsoft that is being recognized more and more widely by a growing number of users. It has currently been downloaded more than 16 thousands times, and rated 4.9 stars out of five. While it has only been around for less than six months, the plugin has witnessed several major updates, each extending its features. This plugin is perfectly compatible with WordPress version 3.8.1 (and so are WP Post to PDF Enhanced and Print Friendly and PDF Button plugins). With this plugin, you will receive two easy-to-use buttons attached to the content of your website. All you have to do to create a PDF file is click the appropriate button, and let the plugin do all the processing. As it is done with the help of an mpdf library, you will not be redirected to another website, and the PDF file you will receive will be almost identical to a regular PDF document. When finished, you can either download the document, or print it out by hitting the second of two buttons.
If you prefer custom post types, you will also find no difficulties in working with PDF & Print plugin, as it supports every type of posts displayed on your website. Apart from that, you are free to create PDF documents for your archive and search pages, as well as develop a personal PDF & Print portfolio. If the default position of PDF & Print buttons does not work for you, you can easily relocate them to the spot that fits your needs (this feature is typical, and can be found in other plugins under review as well). This can be done on the settings page, which includes several user-friendly location options, along with the choice of PDF document templates.
Finally, PDF & Print enables the execution of shortcode in PDF and printing output, which is truly a time-saver function.
Download PDF & Print: https://wordpress.org/plugins/pdf-print/.
2) PDF24 Article to PDF
PDF24 Article to PDF created by pdf24 and StefanZielgler is one of the older plugins, which has already hit 66,5 thousand downloads and underwent a number of large modifications, receiving a user rating of 3.4 out of 5 stars. Unfortunately, this plugin will not function properly with WordPress versions 3.6.2+. This plugin is similar in its functions to the previous one, yet it does not have a built-in print option. Neither is it graphically realized in the form of a button. Instead, it features several links to creating the PDF file, located in different places on the page, which makes it really hard to miss one when looking for a way to generate a PDF document. Like in PDF & Print, you are also free to adjust the location of the links and boxes on the page. However, you might want to keep in mind that with this plugin, the location determines whether you will create a PDF file for all articles, or just one. Although seemingly simple, if you are in a hurry to create a PDF document, having multiple links can be quite confusing.
While PDF24 Article to PDF plugin does not let you print the articles immediately, it offers you two ways of receiving the PDF file. Thus, you can have it delivered to you via e-mail, or download it directly. However, some users find it irritating that the plugin "forces" to give away e-mail address.
Apart from that, the plugin also supports custom fields, which can be listed as an advantage.
Download PDF24 Article to PDF: https://wordpress.org/plugins/pdf24-post-to-pdf/.
3) WP Post to PDF Enhanced
This plugin is developed on the base of an earlier version of WP Post to PDF plugin by Lewis Rostenthal and qstudio. While it is not as popular among the users as other plugins, with slightly over 6000 downloads, the responses and high rating  (4.9 stars), nonetheless, suggest that this plugin has high chances becoming more successful in future. Similar to the previous plugins, WP Post to PDF Enhanced allows rendering posts and pages as PDF files that can either be downloaded or printed. While it introduces a Create PDF button, this plugin does not have a similar one for print option, which sometimes may be inconvenient.
Still, well-developed settings that allow users to specify various aspects is what really makes this plugin stand out. Thus, you are free to choose the post types that will support PDF creation, the types of users who will be able to generate PDF documents (for instance, registered users only), includes and excludes and many more.
Another convenient feature of this plugin is that it allows generating PDF files without leaving the page and utilizing any third party. This way, users are not redirected to suspicious websites. Unfortunately, if you like including HTML to headers, this plugin might not be the best option, as it has been reported by WP Post to PDF Enhanced users. Likewise, watch out for the images inside the content, as they may not be supported by print option.
Download WP Post to PDF Enhanced: https://wordpress.org/plugins/wp-post-to-pdf-enhanced/.
4) Print Friendly and PDF Button
The Print Friendly and PDF Button is a veteran among PDF-related plugins, with almost 500k downloads and a high rating of 4.3 stars. Developed by printfriendly, Joost de Valk and jrf, this plugin is by far the oldest among similar products. With Print Friendly and PDF plugin, you can easily remove separate paragraphs and images from the text in the preview mode, which is extremely convenient and time-saving, and is not featured in any of the abovementioned plugins.
While other plugins often open new tabs or windows, Print Friendly and PDF Button opens a Lightbox, allowing you to stay on the page (however, the similar principle is also used in the PDF & Print plugin). However, in case this plugin is used in the corporate environment, this feature may conflict with firewalls and proxy. This slows down the work significantly, and reduces the attractiveness of this plugin for business websites. What is also noteworthy is that this plugin is environmentally friendly, optimizing the pages to be printed at minimum price and with no extra paper usage. This technology is completely alien to other plugins, while being a huge bonus for Print Friendly and PDF Button.
What is also quite appealing to users, is the strict privacy policy. You can rest assured that your e-mail or any other personal data will not be distributed by this plugin, unless compelled by the law. However, there is always a fly in the ointment. If you want to get a free version of this plugin, you will have to deal with ads. Although they are claimed to not interfere, and appear only in the e-mail confirmation window, a number of people may find it really annoying. Apart from that, users have been reporting that in reality, ads are also put on the print pages, which is a huge minus. In order to remove these ads, users have to pay a monthly fee, which often does not work, and the ads are still shown. None of the other three plugins get mixed up with advertising, as it affects the overall presentability of the website in the negative manner. So, if you develop your site for business purposes, you might want to watch out for those ads.
Download Print Friendly and PDF Button: https://wordpress.org/plugins/printfriendly/.
Installation
The installation process is almost identical for each of these plugins, as it requires downloading the zip file and unpacking it to the target directory, followed by enabling the plugin and configuring it to match your requirements. However, in case of the  WP Post to PDF Enhanced plugin, the type of the downloaded file is not specified, as well as it may be unclear for the user whether the archive should be unpacked to the target directory, or just copied. But apart from that, if you are familiar with installing plugins in general, you will hardly have any problems with installing either one of these.
Customization
Even if the default features of the plugins are convenient and user-friendly, a lot of users still prefer to customize them to match their own preferences. WP Post to PDF Enhanced, Print Friendly and PDF Button  and  PDF24 Article to PDF  plugins allow you to specify the format and style of the PDF document, as well as the design of the buttons/boxes themselves. WP Post to PDF Enhanced plugin has particularly convenient settings options in this case, which include virtually any aspect of presentation and formatting possible. As for PDF & Print, its customization options are different from other plugins, as it does not support manual customization. Instead, a team of professional developers will eagerly do it for you for a small fee. This way, if any difficulties in customization process appear, you will not be the one to deal with them. This offer is really time- and effort-saving when it comes to productivity and usability.
Languages
As WordPress is a CMS used worldwide, plugins that come pre-packed with several languages are more likely to receive customer approval. Unfortunately, with WP Post to PDF Enhanced and PDF24 Article to PDF  you are bound to use English only, as no other languages are supported. PDF & Print plugin originally comes in three languages: English, Russian, and Ukrainian. However, if you choose to create your own language pack for this plugin, the developers will eagerly accept it, and add it to the default settings. As for Print Friendly and PDF Button, it already comes packed with more than 20 languages, which makes it particularly popular among non-English-speaking users.
Drawing Up the Results
With all four plugins, generating PDf files from your website posts is an easy and trouble-free job, that will not take you more than several minutes. However, if you keep up with all WordPress updates and want to print the created PDF files, PDF24 Article to PDF will be of little help. Similarly, WP Post to PDF Enhanced print options may be a little inconvenient for some users, as no separate button is included. Nonetheless, this plugin is perfect for those, who like to customize the features manually. PDF & Print plugin, while having more fee-based features, demonstrates effective compatibility and cooperation with other plugins, and allows you to create portfolios. This plugin is best suitable for business websites. Finally, tree-huggers will be pleased to work with Print Friendly and PDF Button, as it is the only environmentally-friendly plugin. As you can see, none of these plugins is a perfect solution to all your problems, yet you are free to give them a try and see which one is best for yourself.