PDF & Print PRO is a trouble-free solution to creating PDF files off your WordPress blog posts. With this flexible and convenient plugin developed by BestWebSoft you will never have to struggle with generating and printing a PDF document manually ever again! Just install PDF & Print PRO, hit "Activate" and see for yourself that working with PDF files can be a piece of cake.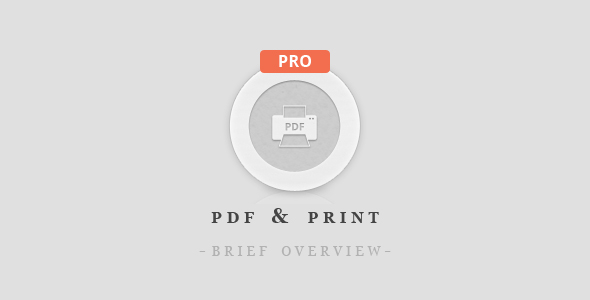 The following article introduces the features this handy plugin comes packed with – and some explanation on what you can do with them.
Create a PDF Document with One Click
PDF & Print Pro offers you a convenient Create PDF button attached to the content of your blog. Feel like making a PDF file out of your post? No problem. Just click the button, and the plugin will do it for you in less than no time.
Print Your New PDF Document
With PDF & Print Pro you can print documents with no extra effort. Furthermore, this plugin displays the system print options on the printing output page, which allows you to adjust page options on the spot. However, if you prefer printing with system dialog box, you are free to move there by clicking the appropriate link.
Generate a PDF File for Your Archive and Search Results
You are free to create a specific PDF file for every post in your archive, or include all of them in a single PDF file. Likewise, you can enter the search query in the appropriate box and include each of the search results into the PDF document. You will find the buttons attached to each post, as well as to page title.
Simple Settings
You may have noticed that a large number of plugins require adjusting a billion settings to make the plugin work properly. Fortunately, with our plugin you don't have to read yourself into huge manuals in order to grasp the meaning of particular settings options. Simple PDF & Print Pro settings cover every important aspect of working with this plugin without overloading you with unnecessary details.
Execution of Shortcode
Shortcodes can make working with posts a lot easier, so, naturally, you will want to keep them when creating a PDF file. As PDF & Print Pro supports the execution of shortcodes, you can rest assured that the documents you've created with this plugin will preserve each type of content provide by shortcodes.
With PDF & Print you will be able to create PDF documents off every post presented on your page, including custom post types. Like book-type posts, jokes or events? No problem – it will not only be displayed in the PDF document, but also available for printing. Similar to regular posts, you will find PDF and Print buttons attached to the content. No data will be abandoned by our plugin!
Customize Your PDF and Print pages
Feel that the default position of PDF & Print buttons doesn't work for you? Our plugin lets you fix that in no time. PDF & Print Pro includes simple yet practical settings, which offer you a choice of button location and templates for posts.
Want the buttons aligned bottom left? No problem. Choose the appropriate option, and enjoy the new button position.
Portfolio
The ultimate goal of our plugin is to make sure that you can create and print a PDF file off each post on your website, regardless of its type or content. So, if you are a fan of imagery, Portfolio plugin is one of the most convenient tools in organizing your images. With PDF & Print Pro you will be able to create a PDF file for your portfolios, without any data lost.
Specify the Pages and Post Types
In case you rarely feel like creating PDF files off some post types, you can easily remove the PDF & Print buttons from this types of content on the settings page. This way, you are free to choose exactly which pages this plugin will support, so you will never be distracted by unnecessary options when working with your posts. Please note that you will not have this feature with the free version of PDF & Print.
Apart from the features mentioned above, PDF & Print also offers you a series of benefits that make this plugin even more attractive for both experienced users and newbies.
Maximum Functioning at Minimal Effort
Having worked with other plugins, you may have noticed that they often tend to include so many details that users can hardly figure out the principal purpose of the plugin. With PDF & Print Pro you receive exactly what you have searched for, without a thousand of smaller functions that distract the users and slow down the work of the plugin. We believe that simplicity and operability are best for plugins, and we adhere to this idea with PDF & Print Pro.
A Friendly Plugin
PDF & Print is perfectly compatible with other plugins. So don't worry, the work of the plugins you installed before will not be affected. Moreover, PDF & Print PRO can be integrated with a number of other plugins that work with posts.
No Coding Expertise Needed
While some plugins can only be adjusted through coding, with PDF & Print Pro you do not have to enter a line of code to introduce any changes to the plugin. Everything that can be changed or customized is presented in the form of simple options and clickable buttons, and it takes several seconds to bring the plugin to your personal idea of perfection.
Seamless Integration with WordPress
With PDF & Print Pro, there are mere seconds between installing the plugin and using it, as it integrates seamlessly into your WordPress website. This way, you do not have to go through a list of complicated setup instructions – this process is automatic and does not require your involvement from the moment you hit "Install".
No Preliminary Configuration Needed
Once installed, PDF & Print Pro is ready to use. Forget about preliminary configuration – with our plugin you don't have to tackle with these issues, as default configurations are perfectly functional. Install the plugin – and enjoy its features without further ado!
On Hand Customer Support
In case any problems related to the work of PDF & Print Pro appear, you can rely on our customer support team to take care of them free of charge. Contact us – and you will receive a helpful and insightful answer within one business day. We try to respond to each comment as soon as possible, so no need to worry – if you report a bug or a problem, it will definitely be dealt with.
Get PDF & Print Pro here: https://bestwebsoft.com/products/wordpress/plugins/pdf-print/.