WordPress allows to create templates for sections, single posts and pages with ease in your theme . However, is it possible to use a completely different theme for a single page or section on your WP site?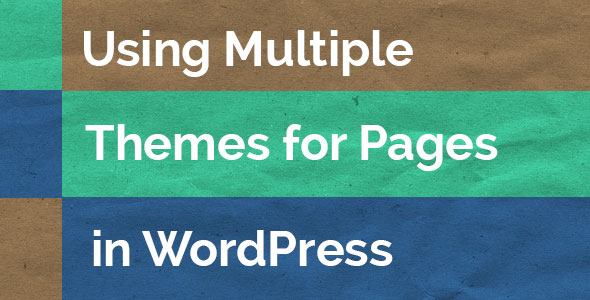 We will show you how to do it.
Step 1. Preparation
Before you start, we strongly recommend you to deactivate any caching plugins like WP Super Cache or W3 Total Cache (they may display the page older version so you won't be able to see changes properly), and make a full backup of your website.
Make sure that the needed themes are available in WordPress. You can install as many themes as you want, but you can only have one theme activated at a time. See the article on how to install and activate a WordPress theme.
Step 2. Using Multiple Themes in WP
Firstly, install and activate the Multiple Themes plugin. To configure the plugin, go to Appearance » Multiple Themes plugin.
The plugin menu provides detailed instructions on how to use it.
Generally, there are three ways to set up multiple themes. The 1st way allows you to set a different theme for the homepage of your website. Just select the needed theme from the dropdown menu and click Save All Changes.
The 2nd way is to enter a full URL, use a URL prefix or URL Prefix with Asterisk. Pages will use the theme you define here, if they match the URL.
The 3d way is to specify the theme using a query keyword. URLs will use the theme defined here if they contain the keyword you specified.
Step 3. Change Options of Your Theme
Pay attention: when you apply the theme to a page, query or section, it will not affect your active current theme. You will have to temporarily activate the theme to configure it.
Say, you use Microblog theme on your website, and you applied Twenty Fourteen on a particular page on your website. Go to Appearance » Themes and activate Twenty Fourteen theme, to configure its options. Now, using Appearance » Customize, you are able to make changes to the theme.
If the theme setup satisfies you, save changes and return to Appearance » Themes to reactivate your old Microblog theme. Find advanced theme options in the Theme Options tab on the plugin's settings page.
And that is all. We hope that this article was useful for you. We really do!