Say you've become a WordPress themes developer. Your PHP skills are exemplary, you've spent much time working and coding, and finally you are ready to offer awesome themes to the WP community. What should you do next? How to start selling your themes? Should you rely on marketplaces such as ThemeForest or create your own theme club or theme shop?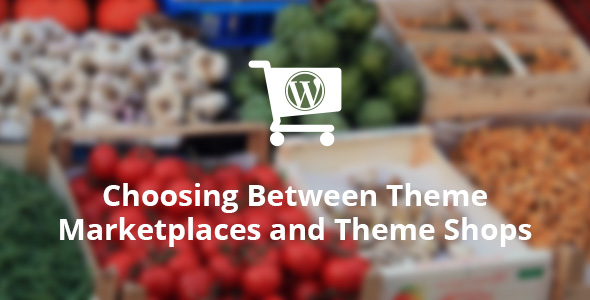 This article will reveal pros and cons of selling your themes via theme marketplaces as opposed to having your own theme shop.
Creating A Theme Shop
This is probably the hardest way of selling your WordPress themes. However, it is the most obvious. You can either opt for a theme club membership model or create a small shop to offer themes as well as other WP products.
For instance: Elegant Themes, WooThemes, BestWebSoft.
Pros
The entire profit is yours, since no intermediaries involved.
Your business will have more professional look.
It is you who decide what to sell and when to sell.
You can decide your support mechanism, refund policy, etc. There are no split licenses involved.
Cons
Issues such as a website management, eCommerce and reliable web hosting package can become a real nightmare.
If you want to create a successful WordPress theme shop, you need to have strong technical abilities and marketing skills.
Nowadays the WordPress theme market is overcrowded. So it can be a big challenge to make your brand known.
Selling via A Marketplace
There are few marketplaces which provide the ability to sell your WordPress themes to customers and clients from all around the globe. Moreover, there are stories of millionaires who earn their money simply by selling themes with the help of such marketplaces.
For instance: Creative Market, ThemeForest.
Pros
A marketplace will take care of issues such as marketing and publicity, so you don't have to.
A marketplace will manage web hosting and eCommerce setup, so you can spend more time for theme development.
You can rest assured and not to worry about your publicity and making yourself known, since if your theme is good, it will be profitable in a marketplace.
Cons
You will not get the entire 100% of your profit. You will have to give some part of you sale proceeds to the marketplace.
All marketplaces have a variety of control issues such as refund policy, selling price, licensing terms and other similar limited control options.
Any Middle Solutions?
There is a third way. You can also create your own theme shop and opt for a marketplace. Nowadays, most of marketplaces offer a non-exclusivity model of selling. It provides an ability to sell your themes on several places at the same time. The profit margin in such non-exclusive cases will be lower. However, you can compensate it by selling themes on your own shop and retaining 100% of the sales.
In addition, there is an option which let you sell one theme on your own theme shop, and another using a marketplace. It is much profitable and gives you an ability to control over the other themes in your own theme shop.
Conclusion
Some time ago, marketplaces such as Mojo Marketplace and ThemeForest did not provide GPL licensing option. But they do now. Opting for a marketplace or having your own theme shop — both these options have their own merits and demerits. It all depends on what are your stronger sides, how much time are you ready to invest in your business and how much control you want to have over your themes. If you don't want to deal with web hosting issues and eCommerce solutions or you have doubts concerning your marketing skills, it would be definitely better to use theme marketplaces. Having your own theme shop will be a good idea if you want to get all profit and an absolute control over your themes. And of course you can always use the hybrid way. The choice is yours!