Say, you need to create a completely private WordPress blog, since you want to share some photos with your family and friends only. Is it possible? Yes, it is. And in this article, we will tell you how to do it as well as how to create password protected posts in WP for those, who want to have a piece of private area on a public blog.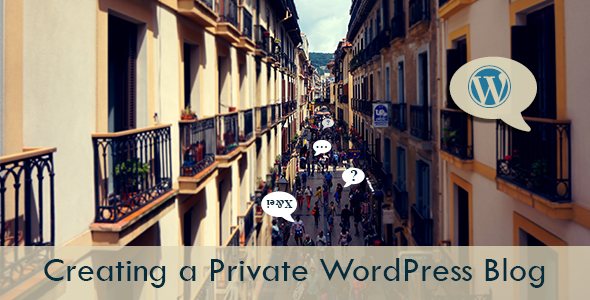 There are a variety of situations when it is necessary to have a private blog.
So When a Private Blog Is Needed?
If you need to make a classroom website accessible only to registered students.

If your site is under construction and is not yet fully ready.

If you use your WordPress blog for sharing your wedding photos, baby pictures, family events, etc. with family and friends. For inspiration, see one of the best

templates

to create a wedding theme.

A private blog can be used by teams working on projects for collaboration.

If you use a private blog as a private journal or travel diary.
How to Make Individual Posts Private in WP
WordPress provides a built-in feature to make pages or posts password protected or private. So how to make a post private?
Firstly, create a new post in WordPress or go to editing mode of an existing one. You will see the Visibility option under the Status in the right top corner of post editor screen. Click on the Edit link there.
You will see options to make a post password protected or private. Choose the needed action and click OK.
WordPress will ask you to enter a password if you have made your WordPress post password protected. To view that post, users will need to enter the password which you can send them by email.
How to Make Your WordPress Blog Private
Firstly, you need to install and activate one of the following plugins which allow to create and manage user roles on your website. For example, User Role plugin. After activation, go to Settings >> User Role to configure the plugin and select roles.
Then, on the plugin's settings page, you can set actions with posts that the chosen user role will be able to perform on your blog. Say, you have picked the Contributor role. Just mark the checkbox "read_private_posts" option.
When finished, click the Save Changes button. Now your private post will only be visible for users with the Contributor role. Please see the guide for more information on how to add or remove capabilities from user roles for User Role plugin.
User Role is a great way to share your thoughts with selective people on your blog. If this article was useful for you, please subscribe to our newsletter.