Customizable WordPress Tool
PDF & Print plugin is a useful and effective tool which adds PDF and Print buttons to your WordPress website posts, pages, custom post types, search results, and archives
View PDF & Print your content
With Pdf & Print plugin, you can do even more than just print pages and view PDF documents. With a complete set of features, it's easy to add your personal info to documents.
In PDF & Print plugin, you can easily add margins to your document.  For example, you may not need to have narrow sidebars and would like to expand them to have more space in your documents.
Adding a watermark is the best way to protect your content from stealing. You may add text or logo to your PDF/print page to make it secure. It also offers a step toward safeguarding intellectual property.
If your WordPress website pages, posts, archives or search results have a different orientation but you would like to have a perfect PDF and print document look, you can easily manage it! PDF & Print plugin allows you to select the orientation of different types of document: portrait or landscape.
Headers and Footers
Placing your company's logo, name, and date into the document, is a great way to add extra protection against people stealing your content and also, a way to stylize and customize your docs.
View Galleries
PDF & Print plugin is compatible with our amazing Gallery by BestWebSoft which will give you the chance to easily view and print beautiful galleries in your document.
WooCommerce Friendly
Now you can easily give a chance for your users and visitors to save PDF copies of the products or just print them. Besides, there is an option to select the visible information.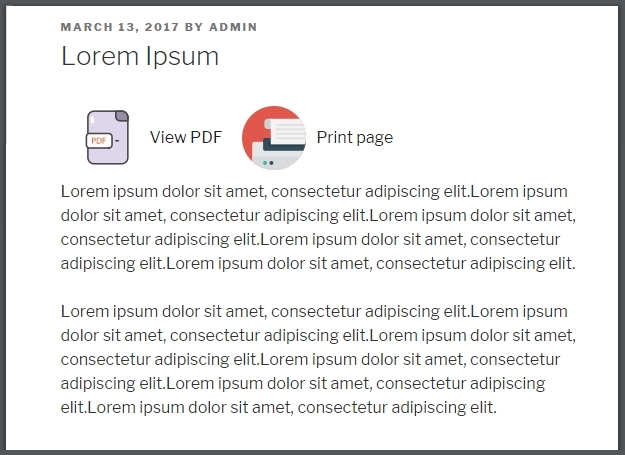 Appear How and Where You Like
You are free to customize the button's position and appearance to make it perfectly suitable for your WordPress website design and style.
You can display buttons to the left or to the right of the content, choose the best position to display them: before or after your content. You can display buttons as pictures only or as text…or even pictures (buttons + text) there is no restriction here!