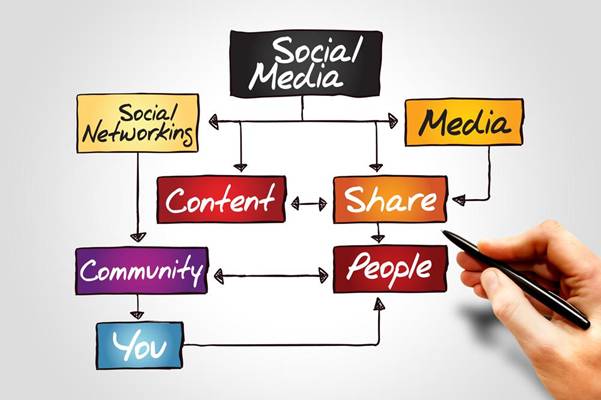 Creating an effective social media strategy is central to the success of your website and ultimately, your business. But many website and business owners don't even know exactly what a social media strategy is, let alone figuring out how to create one from scratch. To simplify the idea, it is the way you synchronize all your actions and brand expression on social media with your overall marketing plan. That means, every post, tweet, like, and comment on any social network should be guided by a definite and outlined social media strategy.
That might sound a little complicated, but if you carefully craft an intelligent and workable social media strategy, the rest of the efforts required will flow naturally. So, if you approach social media planning the right way, you can make a success at it with visible impacts on your brand value and sales volume.
Generally, the more detailed and specific you are with your plan, the more effective you'll be in its execution. Be exact, concise, and deliberate with your plan. Let it be goal-driven, but keep it realistic and not so broad or lofty that it becomes unattainable.
Your social media plan will serve as your blueprint for every action, tweet, post, like, upload, and comments on any social network. It will also help you indicate if you're succeeding or failing, and to what extent.
If implemented smartly, social media marketing and advertising can be the most effective and cost-effective way to reach and engage your brand's target audience.
But first, for clarity, let's first review how a good social media strategy can help you achieve your website or company goals. It can help:
✓ Increase brand awareness
✓ Boost brand engagement
✓ Drive traffic to your website
✓ Generate new leads
✓ Grow revenue
✓ Build an online community of brand advocates, users and potential customers
✓ Increase brand media mentions
✓ Establish a better understanding and prediction of customer behavior
10 Steps to Build an Effective Social Media Strategy for your Business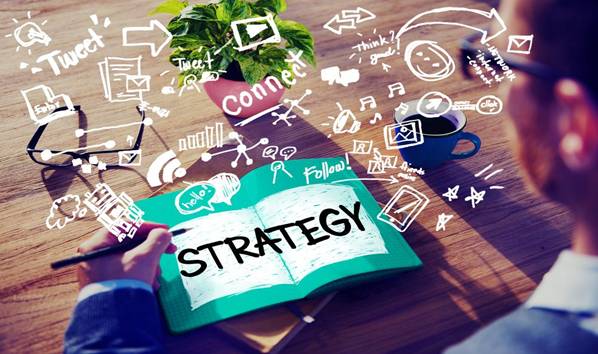 What steps do you need to take to build a practical and effective social media strategy for your business? However, note that your social media plan begins with a good website that has a brand-able domain name. So, before you register and get hosting for your website, you should do a thorough domain name search for a URL that resonates with your overall business goals.
1. Conduct a social media audit.
Before you start planning a social media strategy, you need to first assess your current social media profiles and how they rank. Review your social media followers, find out which social media platform your customer base mostly uses, and how your social media presence rate when compared to your competitors.
2. Draw up effective social media marketing objectives and goals.
Having done an audit of your current social media presence, you will need to create an ambitious, but realistic and effective social media plan that aligns with your overall business objectives. This written and articulated strategy will help you to quickly react and make the necessary adjustments if the campaign is not going as planned or yielding the expected results.
Besides, a definite social media outline will assist you to gauge your success levels or return on investment (ROI) on your social media budget spending. Make sure to integrate the SMART (specific, measurable, attainable, relevant, and time-bound) principle when setting your social media plan goals and that they support your business objectives.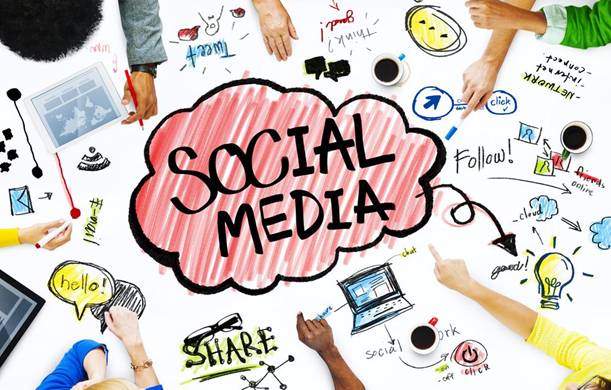 3. Break down your goals into specific tactics.
Once you have interpreted and incorporated your business objectives in your social media plan, it's time to break it down into specifics and map out a detailed outline to commit to while implementing the plan.
If, for example, the core of your business objective is to expand into a new market segment, your social media plan will focus on discovering and building relationships with influencers and brands in that market segment.
To break down this strategy into specific tactics, you may include in your plan a need to:
Create a list of 100 influencers in that new market segment who might be open to paid posts.
Create and send carefully craft direct messages to this list and focus on the ones that are interested in partnering with your brand.
Set up a paid post with a brand or willing influencer every month.
4. Identify and analyze your audiences.
Your business products or services have a target market, and also your social media plan should aim at a specific, roughly identifiable audience. Your comments, likes, tweets, and posts will be generally social interactions with this group or groups on social media.
How do you identify the right audience for your social media messages and presence and where can you find them?
First, know your current and target customers and then analyze their demographics and psychographics characteristics. The outline of behaviors, lifestyles, and desires is what is referred to as your buyer persona. That information will help you identify your right social media plan audience, which social network they can mostly be found on, at what time they're mostly active, and the kind of messages or interactions that interest and engage them most. An analysis of your RSS subscriptions can also highlight the kind of content that appeals to your target audience. Here's more on what you need to know about RSS.
But getting such insightful information can be difficult and time-consuming if you don't use the right digital tools. Thankfully, most social networks offer demographic information with tools that can help you work out where you have a concentration of your target audience.  Some of these helpful analytical tools include Google Analytics, Facebook Insights, Audience Insights, Twitter Analytics, Instagram Analytics, and LinkedIn Analytics.
It is always important to take advantage of available analytical data to identify your target audience; and it's absolutely a necessity if you want to plan and implement an effective social media plan.
5. Create or improve your social media accounts.
With your social media audit and plan concluded, it is time to create the right and effective platforms to launch your online presence on social networks. Select the networks that work best with your social media objectives and where your target audiences are mostly concentrated.
If you currently have zero social media presence, build from the ground up with an eye on your broader goals and target audiences. If your website or business has existing social media accounts but with a weak presence or they are not on the right channels, you should make the necessary updates and improvements to achieve the best possible results.
6. Optimize your social media SEO.
If you optimize your social media profiles for SEO, you can generate more web traffic to your website; and when you take advantage of cross-promoting opportunities with your social accounts, you can further extend the reach of your contents.
Also, ensure that your social media accounts are active and have rich, vibrant, and continuous interactions with the target audiences using the right messaging, images and timing of posts.
7. Provide a human touch to your social media handles.
Since your website or business social media profiles will be named with your brand, and not your name or the administrator's name, there's the tendency to make the account behave like it's a robot or some sort of mechanized messaging platform for the brand. But people want to interact with people and will switch off or go elsewhere when the human touch is missing.
While your social media accounts should be guided by the outlined social media strategy, it must still be "human" in the way it executes the plan. That means sharing some behavioral similarities and nuances with the target audience, although still remaining true to its brand goals.
8. Create a workable social media advertising budget.
To execute a detailed and effective social media plan, it is recommended that you also set aside a dedicated social media advertising budget. Company executives and website owners who understand the power and reach of social media marketing never shy away from investing in it. It is projected that social media advertising will make up 20% of marketing budgets in the next five years.
9. Think mobile.
The statistics in favor of mobile-focused social media plan is overwhelming. To get a glimpse of why thinking mobile is absolutely central to the overall success of your business marketing plan, consider these: the average person checks his phone 150 times a day, about 68% of smartphone owners are so addicted to their phone that they'll imagine their phone is vibrating when there's actually no notification and 33% of consumers do their research on their phone or their iPad.
10. Assign tasks, set ETAs, and choose success metrics.
Once you have outlined the goals and objectives of your social media plan, you need to assign tasks to specific people and set an ETA for completion of each task. Also, select the right success metrics to measure the success of the social media strategy and ROI. It is important that you analyze and adapt your social media plan as you go. If you think something or an area needs a change or adjustment, do it.
ABOUT THE AUTHOR:
James Cummings is a Business Psychologist and CEO of Daily Posts Copywriting. He has spent over a decade in the tech space and invests a lot of time helping businesses like Egnut (http://www.egnut.com) to understand consumers, create better customer experiences, and optimize content for better lead generation and higher ROI.