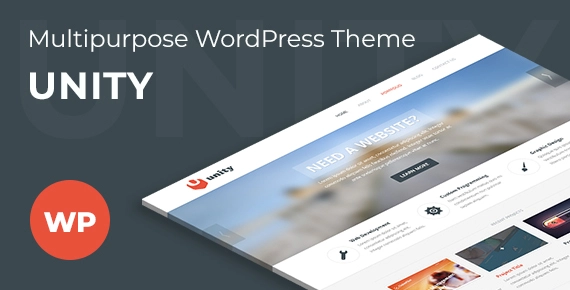 Wordpress Unity - Multipurpose Theme
Create professional business WordPress website with Unity theme
---
Description
Unity is a responsive multipurpose WordPress theme which was specially designed for personal and business purposes. Add slider, change the appearance with custom pre-built widgets, social buttons, and many more. Simple and easy solution for both people with no programming experience and advanced developers.This theme perfectly suits for corporate, business, photography, wedding, hotels or and similar types of activity.
Build your WordPress website quickly with minimal efforts!
HTML template is available for purchase — https://goo.gl/hykmoY
Demo Data
Install demo data to get the same look as in the demo preview.
Recommended Plugins
The theme integrates with the following plugins right out of the box:
Credits
You can install demo content from the WordPress dashboard. HTML and PSD files are not included into this release and available for purchase as separate products.
Fonts
Images
Images used in the preview files are not included into the release archive. All images are licensed under Public Domain CC0. Learn More — http://creativecommons.org/publicdomain/zero/1.0/
FAQ
What I'll get after purchase?
After you purchase our product, you'll receive the following email notifications:
Thankful letter with awaiting payment approval.
If your payment has been successfully processed, you'll receive the letters below:
User registration email with access to your personal Client Area on BestWebSoft website (https://bestwebsoft.com/client-area), where you can manage your websites, licenses and find purchase information.
A successful purchase confirmation email with your license key and download link.
If the system considers your purchase as fraud, your payment will not be transferred to us, your money is left at 2CO and 2CO will refund it to you (as a rule, within 1-2 days). No further actions are needed.
What's included in Regular and Unlimited licenses?
When you buy a Regular and Unlimited license, you are supposed to get a downloadable ZIP archive with Pro license key including personal support, constant updates, and special offers.
What is the Priority Support?
Priority Support is an answer to your question within one business day. For more info see Support Policy.
Didn't receive anything, got charged. What should I do?
You will get the download link after transaction review. Usually, it takes about 30 minutes to review one transaction. You will receive a message with a download link and license key to the email specified by you during the purchase.
Check your spam folder, the message can be there. If you haven't got the download link within 24 hours, feel free to contact us. Please specify your name, email and order number. Submit a request
What's the difference between Regular and Unlimited licenses?
With Regular license you will receive product updates and priority support for 1 year. You will have lifetime rights to use the theme.
With Unlimited license you will receive product updates and priority support forever (see License Agreement for more details). Moreover, you can modify and distribute the theme at your own discretion.
What is Pro Membership?
Pro Membership is a subscription which gives you access to all premium WordPress plugins and themes, plus all the future plugins and themes we'll release over the course of your Pro Membership subscription for a single website/domain. Updates and dedicated support are included through the license lifetime.
What will happen if I cancel my membership or subscription? Will I still have access to the themes I've purchased?
In case of payment cancellation you will no longer receive top-priority support and product updates, however, you will be granted lifetime rights to use the product. Support will be provided on a regular basis.
How can I change the license from Regular to Pro Membership?
Cancel your previous Regular license and buy Pro Membership license. Then add new license key to your website.
How can I change the license from Regular to Unlimited?
Cancel your previous license and buy Lifetime license. Then add new license key to your website.
Can I use a single Regular license for multiple websites (domain names)?
One premium theme can be installed on a single domain and its subdomains. You should buy separate licenses for each website/domain.
NOTE: We do not support websites, which use Domain Mapping or similar plugins/server configurations.
How can I request a refund?
If you are not 100% satisfied with your purchase, we may refund the cost of your order within 30 days from the purchase date. refund-policyLearn More
Do you have any discounts?
Special offers, timed to various holidays and international sales, are constantly appearing on our website. For a better price quote, we recommend you to purchase Pro Membership.
Have Questions? You can always ask us. Submit a request