Over the last few years, WordPress has witnessed an everlasting influx of new themes, uploaded by enthusiastic contributors, willing to share their best practices with everyone searching for a new look to their website. For this matter, it is not that hard to get lost in the whirlpool of newly released or updated products, ending up confused or frustrated. Here's where this article may come in handy, offering you a brief overview of the most top-rated free themes of this month.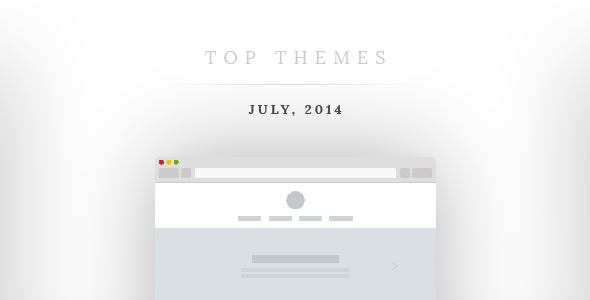 Who knows, maybe one of these themes will offer you exactly what you've been looking for? So, without further ado, let us introduce the themes that were among the leaders in July.
1. Omega
Omega is an outwardly simple, yet highly flexible and powerful WordPress Parent Theme. Thus, it can serve as a convenient starting point to create any type of child theme, as you can juggle with its settings to match any purposes of yours. What is also appealing in this Responsive WordPress theme framework is that it supports HTML5 and schema.org – the semantic foundation created for website promotion.
Omega was designed as a user-friendly framework that makes building child themes an easy and trouble-free process. This theme is quite appealing to designers and developers, who find coding complex functionality for the necessary theme features a nuisance. Since Omega is a framework you can trust with this job, it will help you spare extra time to focus on more important matters. This framework is a brain, while child themes handle all peripheral elements, such as scripts, markup and style.
Omega demo: http://themehall.com/preview/omega/
Download this theme: http://wordpress.org/themes/omega
2. Vantage
Another theme that has won the hearts of a large number of users last month is Vantage – a customizable and fully responsive theme that will be most appropriate for websites with various purposes. One of the most attractive features of this theme is its flawless integration with such powerful WordPress plugins as MetaSlider, which allows creating large and elegant sliders, WooCommerce, perfect if you are involved in online sales, and Page Builder that improves the responsiveness of page layouts.
Vantage is not overloaded with tons of little details – yet it has everything a decent theme should have. This makes it well-suited for online retailers, business sites and portfolios – as well as all other site types, which require user's attention to the content rather than gaudy looks.
Vantage demo: http://demo.siteorigin.com/vantage/
Download this theme: http://wordpress.org/themes/vantage
3. City Informer
City Informer can be considered last month's breakthrough – being released in June, it found its place among the leaders almost immediately. Although simple on the outside, this theme has more features hidden beneath the surface than meets the eye. While being stylish as is, City Informer is also quite flexible, allowing users to adjust it to any needs of theirs. Therefore, whether your website is dedicated to marketing news, social services, car reviews or latest fashion trends – this theme will serve as a harmonious ambience for your content.
What is noteworthy about City Informer is that it is extremely easy to work with – and it is plugin-friendly. Its functionality covers the principal aspects a theme of today should have, yet does not chase for every little detail that can be included. As a result, City Informer may seem more straightforward, yet its performance will leave many themes of this kind behind.
City Informer demo: https://bestwebsoft.com/wordpress_demo_theme/cityinformer/
Download this theme: http://wordpress.org/themes/city-informer
4. The Box
Those who do not wish to overburden their website with tons of details, and search for a simple yet functional theme, will find The Box very much to their liking. This theme can hardly be called too intricate, yet neither it is too distracting. This makes it a good option for business websites and retail sales – the spheres, in which too much visual elements may kill off the visitor's positive attitude towards the site.
This flexible two-column theme has all the necessary tools for users to customize the background, header, colors, as well as work with post formats and post thumbnails. Another huge bonus for The Box theme is that it has a responsive layout, which is highly appreciated by portable device users. Also, The Box comes translation-ready – a feature boosting its attractiveness worldwide.
The Box demo: http://design.altervista.org/preview/
Download this theme: http://wordpress.org/themes/the-box
5. Oxygen
If you are a fan of minimalism in theme design, Oxygen will definitely catch your eye with its clearly structured and smooth layout. This theme's title cannot be more accurate – Oxygen breaths with simplicity and style. Its original structural organization makes it perfect for various magazines, and various customization options allow adjusting the interface to match the type of published content.
Oxygen comes packed with a custom front page template, 3 menus, featured content slider and 5 widget areas – pretty much, everything a magazine needs. Due to its responsive layout, users will have no problems accessing the website with Oxygen from their mobile devices.
Oxygen demo: http://demo.alienwp.com/oxygen/
Download this theme: http://wordpress.org/themes/oxygen
This wraps up the list of the top free themes of July. Check them out and make up your own opinion – or maybe, you'll get inspired to create a theme of your own, which will teach the ones listed above a thing or two!