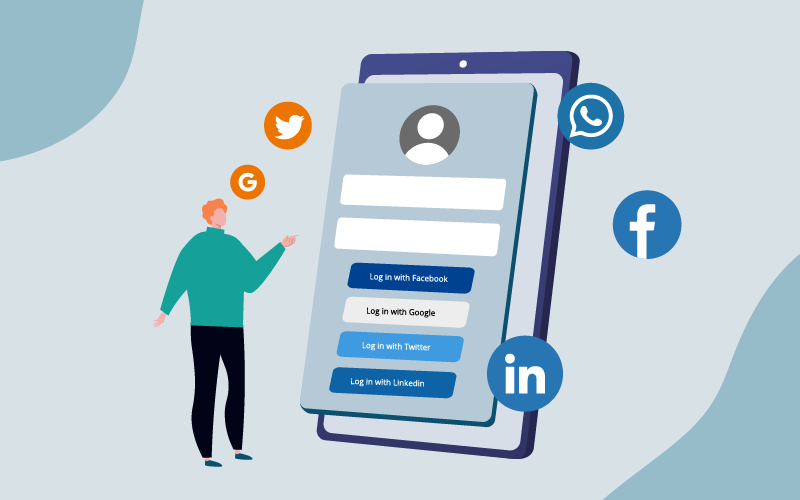 People always prefer to get the best result in the shortest time and with minimal effort. They would rather work with a fast and easy-to-use website to quickly get the result. That's why all the WordPress website owners, aimed to attract more customers, are offering better solutions, like social login, to make the users' experience way easier and more comfortable. As customers, people expect to receive as many options as possible. We strive to provide the best service and reduce any inconveniences that customers could face in our turn.
One of the most common inconveniences is the registration stage when customers have to fill in a lot of forms to create a new account on your website. This stage usually stops people by making them come up with and remember a new login, password, and email. If you want to simplify the login process here is the solution – the WordPress social login plugins!
Social login is the fastest way for users to register on the website just by clicking the special button with the desired social media. Instead of creating the new password and login, it allows importing them from other social media. Social login will save a lot of users' time which means they are most likely to register and continue working on your site. So, here are the best social login plugins.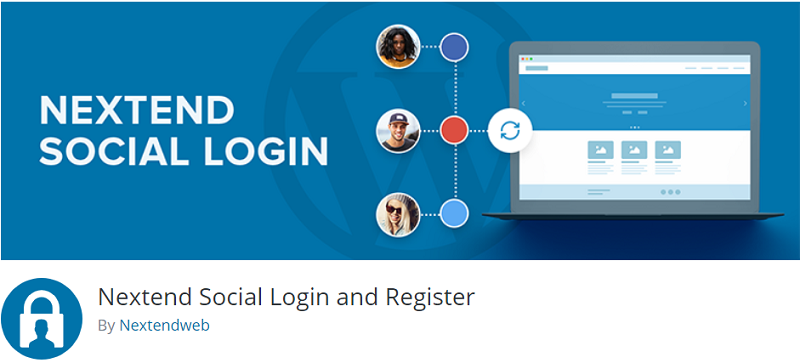 This most popular and professional social login plugin is free to use. Nextend Social Login allows using visitors' credentials from Facebook, Google, and Twitter. Besides, this plugin has an additional option – users can use their social media photos as profile images on your website.
Other benefits that you can have while using the plugin are:
the editing and translation of the buttons' text possibility;
a customizable design that fits your website;
fast support.
In a PRO version, this plugin will delight you with some premium extended functions like linking with WooCommerce, LinkedIn, Amazon, Yahoo, etc.; availability of several login layouts; setting up an email request while registration on each provider, and other useful options.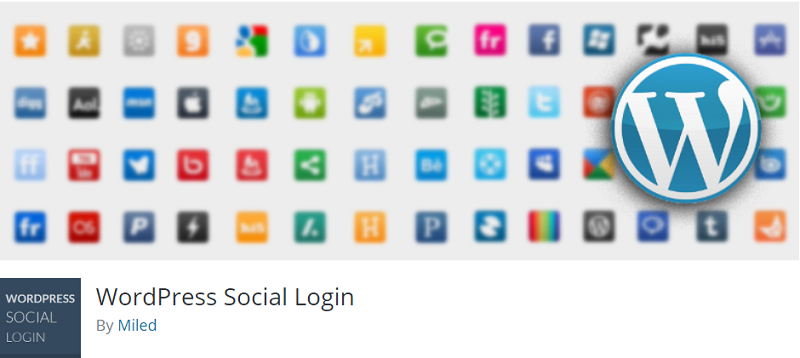 Having a wide number of different social networks like Facebook, Instagram, Google, LinkedIn, Reddit, Tumblr, GitHub, Yandex, Vkontakte, Dribble, etc., WordPress Social Login can be called one of the most universal and useful plugins. It is free and provides such options as:
total flexibility and customizability of the widget so you can customize the design according to your taste;
a wide array of providers and services: photo sharing, blogging platforms, professional, gamers, and social networks;
a possibility to import users' contact lists from Facebook, Google Gmail, LinkedIn, and Windows Live.
WordPress Social Login allows you to control users' access to your website and has a list of some rules and restrictions to help you with the setup.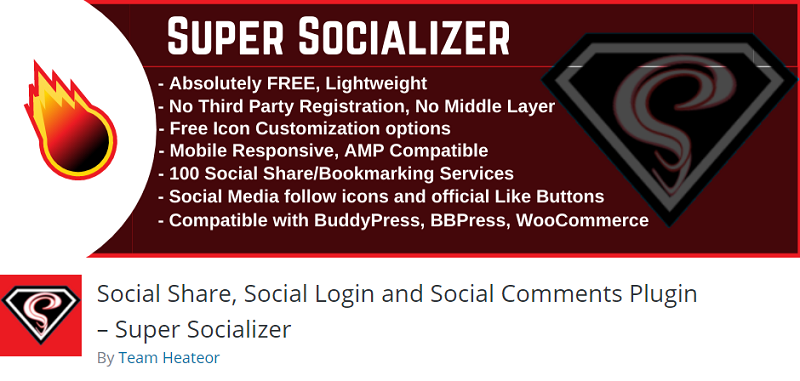 Besides being completely free and lightweight, this plugin has a bunch of advantages. As a multipurpose plugin Super Socializer combines several options – Social Login, Social Share, and Social Comments on your website.
About 100 social networks will be available for users to link their accounts with. The plugin allows modifying its page elements; adding the specialized buttons for each social network (Facebook "like", Twitter "tweet", etc.); is compatible with BuddyPress, BBPress, WooCommerce.

Talking about eCommerce there is no better solution for your store than a WooCommerce plugin. It is an open-source solution with creative themes suitable for any brand or design. Indispensable for entrepreneurs and store owners.
The checkout processes are always a headache for the customers that stop them on many stages. This dramatically slows down your sales and leads to a loss of customers. WooCommerce will reduce the leaks in the conversion funnel and increase the conversion rate (over 10%).
This plugin allows users to connect their store accounts with Facebook, Twitter, Google, Amazon, LinkedIn, PayPal, Disqus, Yahoo, and Vk. With the Social Login, it is easy to sign in. Once users link their accounts they can sign in back with only one click. Therefore, the easier it is to log in the more visitors will be on your website.
WooCommerce also can give you other benefits like viewing reports to monitor which customers have linked accounts from the users' list; linking accounts on the order page; it also allows customers to stay signed when they come back to your site.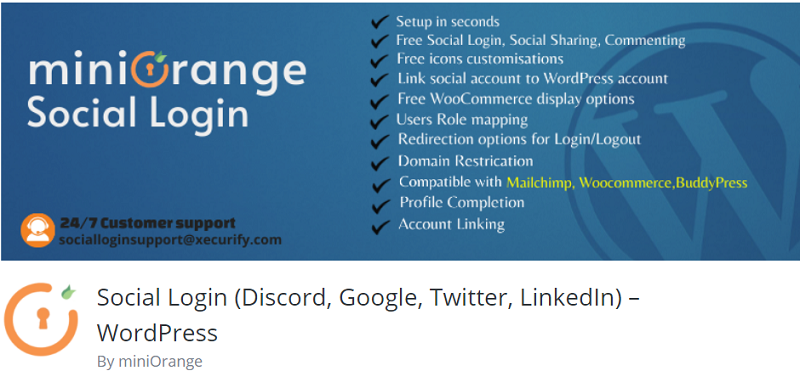 This plugin has plenty of advantages. It supports 40 social providers, social sharing, social commenting, has email notification, and 24/7 support. The social networks available to link are Facebook, Instagram, Twitter, Vkontakte, Google, Amazon, WindowsLive, Salesforce, and Yahoo, and many other networks.
The main features include:
setup a social login application with APP ID and APP Secret for different social networks;
available preview for Social Login icons;
customizable icons (you can change shape, theme, space, and size);
possibility to assign the WordPress roles to users who log in with social login application;
synchronize the social profile photo with the WordPress website;
customizable icons' text and many others;
integration with WooCommerce, Mailchimp, and BuddyPress.
MiniOrange Social Login proposes two versions: free and paid. The free one includes such social sharing and social comments features as sharing with social apps (Facebook, Tumblr, LinkedIn, Pinterest, Twitter, Reddit, StumbleUpon, Pocket, Whatsapp, etc.); adding social comments through Facebook, Disqus; horizontal and vertical sharing widgets. In the paid versions (Standard and Premium) of MiniOrange's plugin Social Sharing you can get more functions with the extended options.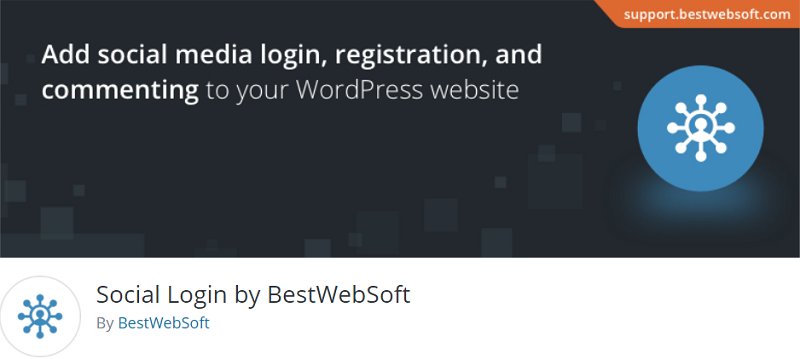 Social Login Plugin created by the BestWebSoft team offers you to log in via the most frequent networks – Facebook, Twitter, Google, and LinkedIn. Our plugin facilitates sign in to your website without creating a new password and username. It can be used in the login form, registration form, and comments form.
In addition to this, you will get other useful options:
a fast and simple setup;
the possibility to select the roles for new users;
linking users' WordPress account to the social networks;
necessary documentation with simple and clear step-by-step instructions, user guides, and videos;
While using our plugin you also get fast help and support in the Help Center and you will get answers to any question or problem you need to solve.
Conclusion
All of the above plugins have one common goal – to make it easier for users to log in to your WordPress site. Social login allows you to link new accounts with social networks while speeding up the registration process for the site. Social Login plugins make user-website interaction easier and comfortable. These plugins will let you increase the number of visits. They improve the quality of the services and users will stay more on your website. Choose one of these plugins and ensure yourself.