Google Captcha is one of the most popular tools for preventing spam attacks and bots invasion. It is really important to update its functionality from time to time in order to make sure that there is no even a little chance to bypass its security.
Let's look at the new abilities and updated functionality in more detail:
Hide Google Captcha
From now on, you can hide reCAPTCHA for the users who are logged in to your website. Moreover, you can select the roles of users for whom you'd like to hide recaptcha block.
Go to the plugin settings page, find "Hide reCAPTCHA for" option and select the necessary roles: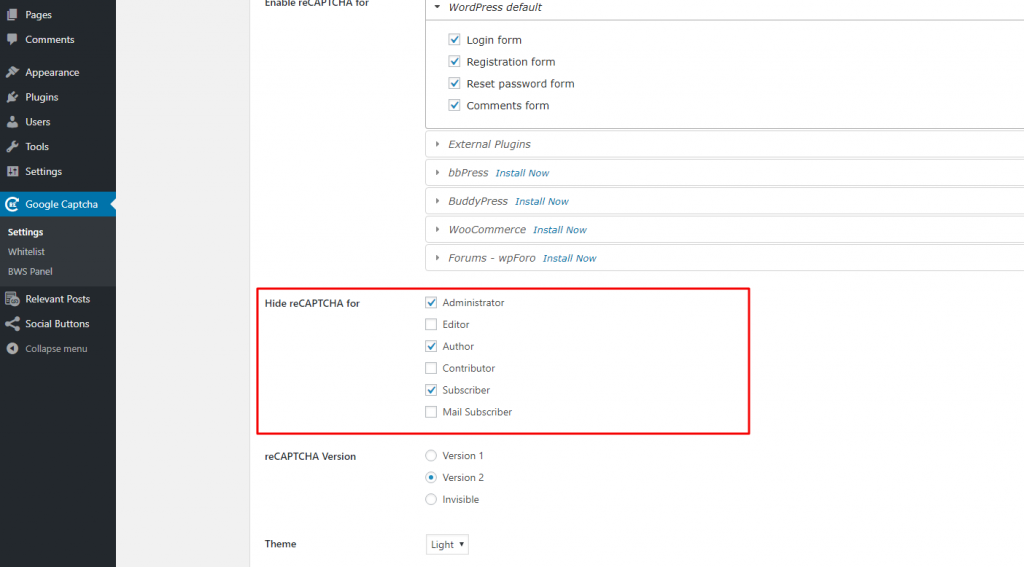 Don't forget to save changes when done.
New Security Level
Let's face the fact that technologies are making a great progress every day, and it is great, however, it also means that bots also become smarter and smarter, like it or not. Today they are smart enough to find the least vulnerability on your site and use it immediately. Any captcha plugin is not a panacea from spammers, and there were ways to bypass it. Until now! Our developers implemented a new checking functionality for reCAPTCHA which reduce the possibility of invasion to an absolute minimum.
Due to this fact, the algorithm of recaptcha implementation into custom forms has been changed (for more details and instruction, please visit Help Center).
Compatibility Improvements
We receive a lot of requests from our users asking to implement a compatibility with some forms. We're taking them all into account and do our best to realize all the suggestions.
This month, we expanded the features list with the compatibility with new forms! Now Google Captcha (reCAPTCHA) plugin is also compatible with the following forms:
bbPress (New Topic and Reply forms)
Fast Secure Contact Form
Jetpack Contact Form
Forums – wpForo forms (Login, Registration, New Topic, Reply forms).

Don't leave any chances to break your security, stay safe with Google Captcha (reCAPTCHA)!
Have a question? Contact Now
If you have a feature, suggestion or idea you'd like to see in the plugin, we'd love to hear about it! Suggest a Feature