There two issues used to backup your WordPress web site: Files and Database.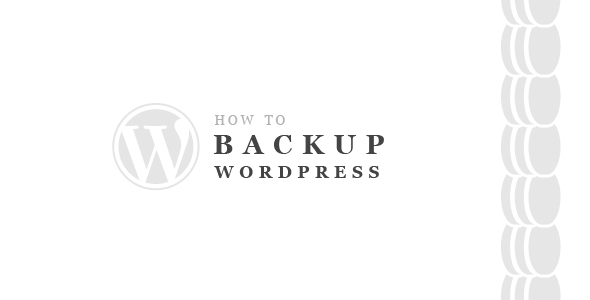 Now we will talk about files.
Your WordPress web site comprises the following files:
WordPress Themes
WordPress Plugins
WordPress Core Installation
PHP scripts, Javascripts and other code files
Files and Images
Static Web Pages and Additional Files
All things which provide the look of your site are located somewhere, so it is better for you to back them up as well as those files in your WordPress directory and subdirectories including the .htaccess file.
Hosts provide the work of the entire server where your web site is located. However, it is necessary to protect your own files by backing them up. The simplest way to do it is to download FTP program. It allows you to save all personal WordPress files on your hard drive.
On default setup, your personal content such as plugins, uploaded files and edited themes is located in the catalog "wp-content". Please note that this directory is very important as well as the wp-config.php file which contains your connection information. The rest of files are core files, which have their own supply from WordPress download zip file.
Other possible solutions for backing up your files:
– Website specialized Software
Most hosts offer specialized programs to save your website setup and content files. Search for such software on your host server.
– Synchronization with your website
Some programs like WinSCP allow you to create a mirror copy of the setup and content and synchronize the latest updates with your local computer. It is very easy and saves your time and efforts.
How to use WinScp program
Using WinScp log in to your FTP server
Click "Synchronize"
It will set your remote directory to the current FTP directory (mostly your root directory). As it was when you press "Synchronize", local directory would be similarly set to the local directory of your computer. If needed, you may select any other direction.
Pay attention that for a successful backup the direction on your computer should be set to "local".
All synchronized files would be put under Synchronization Mode.
When selecting "Ok" once, you will see a short list of your actions. Click "Ok" again to finish the process.
How to Save your files on Desktop
With the help of UNIX Shell Skills or FTP Clients you can save files anywhere on your hard drive. If you need free space or just want to have several versions of files, you may turn them into a zip archive.
Usually, it is not necessary to save the WordPress core files on a hard drive since you always have access to them through a fresh version of the WordPress zip file. Remember however, that the wp-config.php file is the most important one since it contains your plugin files, theme and settings details.