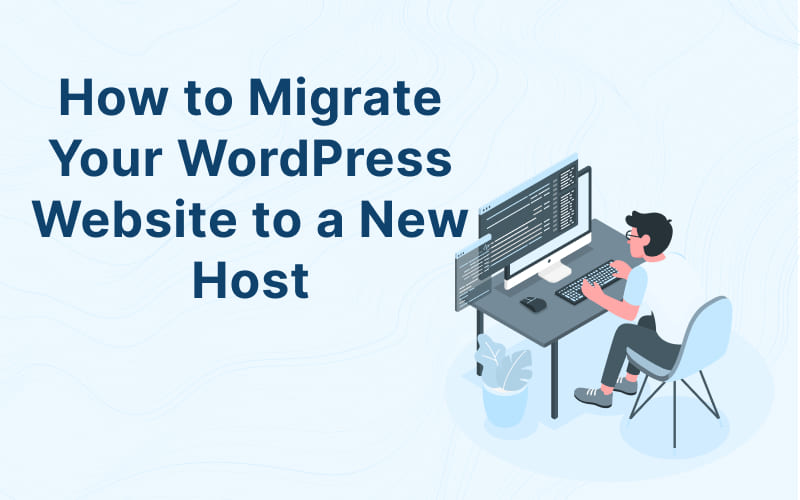 Migration of a WordPress website to a new hosting provider may seem intimidating. Whether you're looking for better performance, enhanced security, or cost savings, this guide offers a comprehensive step-by-step approach to achieve a successful migration.
Why Migrate?
Migrating your WordPress website to a new hosting provider can offer several compelling advantages:
Improved Performance: New hosting can lead to faster loading times, leading to better user engagement and conversion rates. Opting for a host with advanced technologies can boost your site's speed and responsiveness, enhancing your visitors' overall experience.
Better Customer Support: Quality customer support can be vital for site maintenance. Switching to a provider known for responsive, knowledgeable staff can save time and frustration. Look for hosts offering multiple support channels like live chat, email, and phone support.
Cost-Efficiency: It's possible to find hosting providers that offer better services at a more attractive price point. Evaluate your current host's package against others in terms of storage, bandwidth, security, and support to find a more cost-effective solution.
Advanced Features: Access to more advanced features such as staging environments, CDN integration, and automated backups can enhance site management and security. A host offering these features might justify the migration.
Understanding your specific needs and aligning them with these potential benefits is crucial in deciding whether migration is the right step for your website.
Choosing the Right Hosting Provider
The success of migration often depends on choosing the right hosting provider. Here's what to consider:
Uptime Reliability: Select hosts that guarantee at least 99.9% uptime. Downtime can severely affect visitor experience and SEO rankings. Investigate each host's track record and possibly consult existing user reviews for insights.
Support for WordPress: Opt for hosting providers offering specialized WordPress support. This may include one-click installations, automatic updates, and support teams trained specifically in WordPress troubleshooting.
Scalability: Your hosting provider should accommodate your site's growth. Look for plans that allow easy upgrades in storage, bandwidth, or processing power, ensuring that as your site expands, your host can support it.
Security Features: Security is paramount. Evaluate hosts based on their security protocols like SSL certificates, firewalls, malware scanning, and intrusion detection systems. Regular security updates and 24/7 monitoring are also essential.
Customer Support: Efficient customer support can make or break your hosting experience. Consider hosts offering 24/7 support through various channels. Investigate their responsiveness, expertise, and willingness to assist with both basic and complex issues.
Choosing the right host involves a delicate balance of these factors. Take the time to assess each, and don't hesitate to reach out to potential hosts with questions about their services. Your choice will lay the groundwork for a smooth migration and ongoing success for your WordPress site.
Step-by-Step Guide to Migrating Your WordPress Website
1. Backup Your Website
Creating a comprehensive backup is essential:
Use Plugins: Tools like UpdraftPlus can automate the process.
Manual Backup: Download all files and export your database to ensure you have everything.
2. Purchase and Set Up the New Hosting Account
Selecting the right plan is crucial:
Assess Your Needs: Bandwidth, storage, and support are key factors.
Follow Setup Instructions: The host will guide you through the initial setup.
3. Install WordPress on the New Host
Installing WordPress on your new host is usually simple:
One-Click Installations: Most hosts offer this convenient feature.
Manual Installation: If needed, you can manually upload WordPress files.
4. Migrate the Website Files
Transferring files can be done through various methods:
Use Plugins: Tools like Duplicator can make this easier.
Manual Transfer: FTP clients like FileZilla allow you to manually move files.
5. Migrate the Database
Your website's database holds vital information:
Export from Old Host: Use tools like phpMyAdmin to download a copy.
Import into New Host: Upload the database to the new host.
6. Update DNS Records
DNS changes can take some time, so plan accordingly:
Change Nameservers: Update to your new host's nameservers.
Wait for Propagation: This may take up to 48 hours.
7. Test Your Site
Thorough testing ensures everything is functioning:
Check Links and Images: Ensure no broken elements.
Test Functionality: All plugins and themes should work as expected.
8. Cancel Your Old Hosting Account
Don't forget this crucial step:
Verify Everything: Ensure all is well with your new host before canceling.
Cancel Service: Terminate your old hosting to avoid additional fees.
Post-Migration Considerations
After migration, monitor your site carefully:
Site Performance: Utilize tools to check speed and user experience.
SEO and Redirects: Ensure SEO rankings are unaffected.
Email Settings: Update these if your email was associated with the old host.
New Host Support: Don't hesitate to contact them if issues arise.
Conclusion
Migrating a WordPress site to a new host is a significant undertaking, but with careful planning and adherence to this guide, it becomes a manageable task. Back up your data, follow the steps diligently, and don't hesitate to seek professional assistance if necessary. Your website's successful migration awaits!