Opening is a Job Board WordPress theme that can be used for creating job portals, company profiles and personal resumes. It is responsive and comes with brilliant features. You can use this theme as you resume where you can present your education, skills and professional background. Opening can be used for company profile website. Its sophisticated functions provide a professional job board portal where a client can browse, filter and search entities like vacancies, resumes or companies.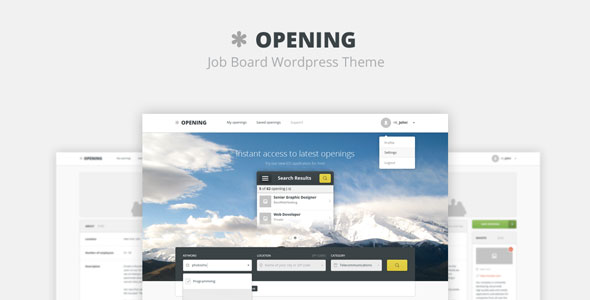 Opening was designed to connect employers who are seeking workers with people looking for a job. This theme provides simple job management tools that allow sorting listings based on job type, category, location, etc.
Opening – Job Board Theme provide unlimited font and color variations as well as a bunch of other options to tweak your website. If you are looking for workers you can advertise vacancies, and find suitable staff by receiving the resumes of people who have registered on the website.
Opening – Job Board Theme combines a simple user experience with powerful tools. It optimized for currencies and payment options and to bring your listing website globally. Opening provides a plenty of other cool features so it is definitely worth to see demo to understand how amazing it is.
You can control any theme element incorporated in your website design. Opening – Job Board is truly one of the best paid job board solutions. It allows accepting new resumes with complete details and selling jobs listing space. Opening – Job Board is an outstanding WordPress theme for online job boards, recruitment companies and any agency that publishes open job listings.
Opening Theme comes with a built-in integration with the following plugins developed by BestWebSoft:
See Demo: http://goo.gl/SNX14l
Purchase: http://goo.gl/6IBmvB