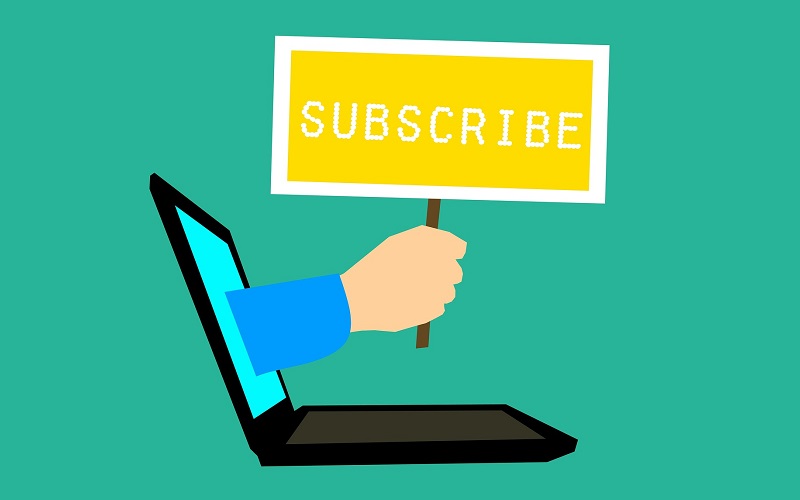 Technology does not stand still and more and more processes are moving to the remote control. For example, newspapers switched to online magazines, and a lot of online stores were opened where you can buy anything. Slowly, everything goes online and for any online business, the customer base is important. Nowadays it is very important to have the data of your client, this gives a huge advantage in the business. You will immediately be able to further promote your product, website, and so on. This will give you the opportunity to constantly remind the client about yourself by sending him messages about some kind of update or discounts. Subscriber plugins can help you with it.
Subscriber plugins are special add-ons for WordPress websites that will help you create forms for your visitors where they can leave their data. At the moment, it is very important to have such a plugin for your site in order to improve communication with your customers. That's why we created an article with an overview of the most popular subscriber plugins.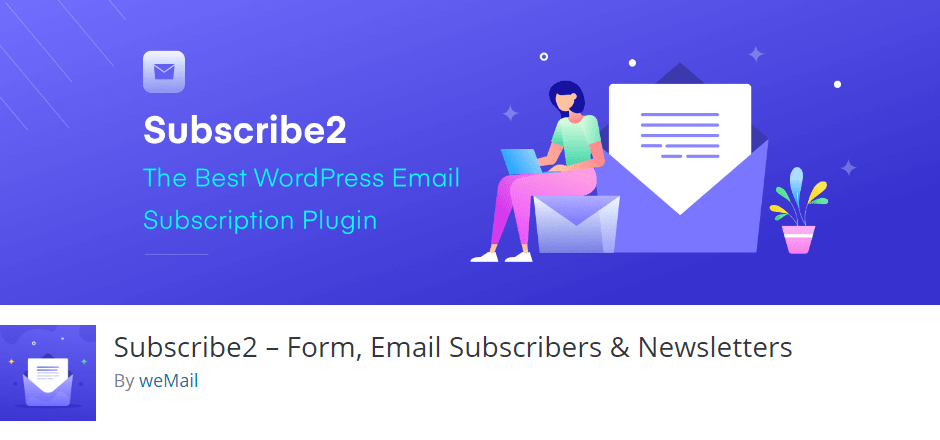 It's a very comfortable, well-optimized plugin that doesn't contain anything extra. It has a narrow focus, is a complex system that will manage notifications and email subscriptions for WordPress blogs. The main task of Subscriber2 is to send email notifications to your subscribers that the new content was published on your blog. Good choice to draw attention to your blog from your old and new subscribers.
Pros
There is a wide range of e-mail message settings. You can customize a sending frequency, one-time sending of a message or periodic. Also you can choose between categories of your subscribers which will receive a message on email;

You can customize the email format for each notification separately. A plugin can present messages in formats such as plaintext excerpt, plaintext full post (Registered users only), HTML excerpt (Registered users only), HTML full post (Registered users only);

You will have advanced communication options with registered users;

Subscribe2 uses the Appsero SDK to collect some telemetry data after user confirmation.
Cons
You will get full interaction with users only if they are registered;

It hasn't in-built Captcha.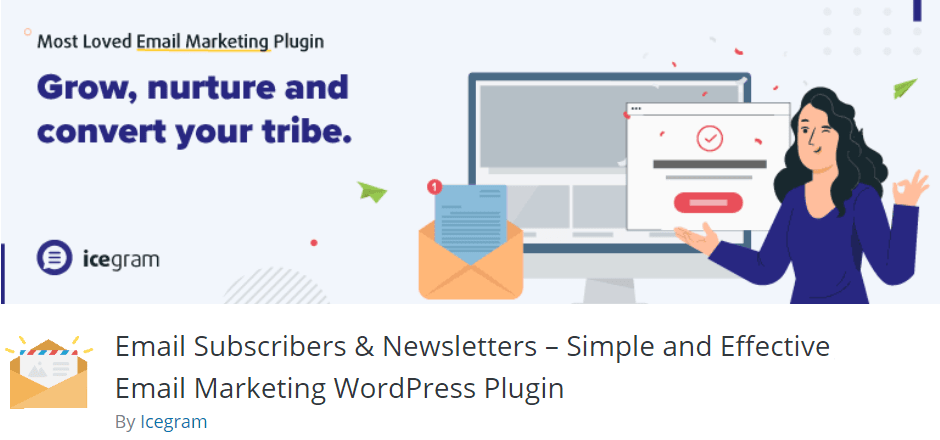 A complete subscriber plugin that's right for you. In addition to the basic functions for subscribers, it contains options to take email marketing on your website to the next level. So that you can pump your site well and make customers out of regular site visitors.
Pros
A widely used plugin that contains many email marketing tools. Easily collect leads on your website, send automated updates when a post is published, and quickly create and send broadcasts;

There are features such as an automatic welcome option for new users, easy setup, the ability to schedule emails, the ability to control user access;

Email Subscribers & Newsletters lets you customize your site even further because it's easy integration with other free plugins;

Also, this plugin has very responsible developers who not only look at reviews but also listen to them.
Cons
If you are looking for a highly specialized plugin, then Email Subscribers & Newsletters may not be for you;

The plugin contains spam;

No built-in Captcha in the free version.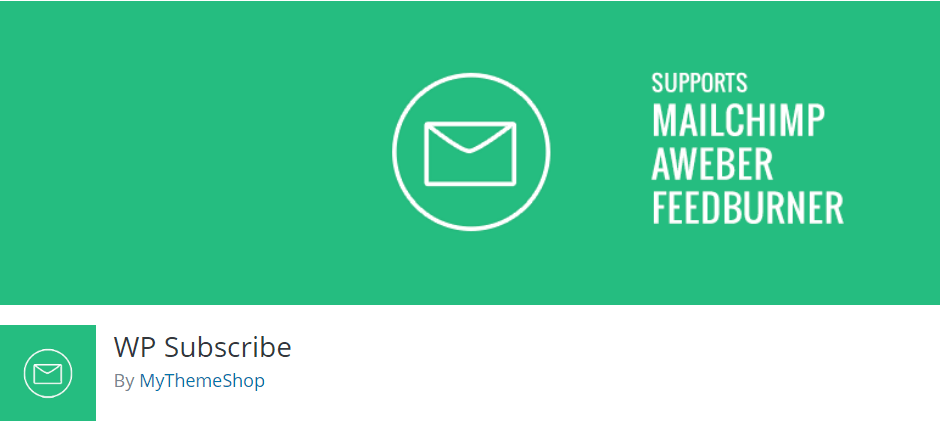 This is a very well-optimized plugin that will work very fast without overloading your site. It won't be difficult for you to customize this plugin because it was made for convenience and ease of use. It is designed to create convenient subscription forms. With this plugin, you will take several steps at once to meet your new clients. If you really want to pump up your website, then this plugin is definitely for you.
Pros
At the time of this writing, the premium version of the plugin with all additional features can be downloaded for free;

The only free plugin that contains everything at once and offers Aweber, Mailchimp and FeedBurner;

The WP Subscriber allows you to customize the change of the text that is displayed in the subscription field;

You can arrange it wherever the widget is located in your theme. Also, the plugin is compatible with caching and SEO plugins.
Cons
There are small problems with spamming due to free access;

If you want to use additional tools besides the subscriber form, then this plugin will not be able to provide you with such functionality.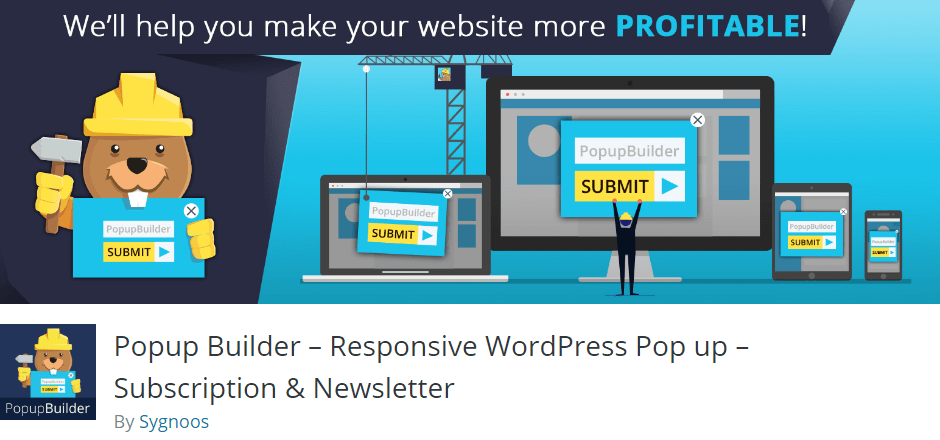 A high-quality plugin with wide options will make your site much more convenient and presentable. PopupBuilder's tools will allow you to fully implement all email marketing opportunities on your website and thereby attract huge attention to it from visitors who will become your customers in the future. In addition, this plugin is very popular.
Pros
Popup Builder is able to support such third-party plugins as Contact Form 7, Ninja Forms, Gravity Forms, WP Google Maps, Review Builder and others, which will further increase the potential of your website;

The plugin has a large arsenal of tools even without assistance, which will give you the opportunity to promote your website as you wish;

Over 200,000 active users, which is an indicator of the reliability and good optimization of this plugin;

With the Popup Builder plugin, you can insert any type of content, right into your Popup. Insert them into any page or a post, easily and fast; Popups that open automatically, are the best solution to attract your visitor's attention.
Cons
The plugin contains ads;

Popup Builder is a shareware plugin, so there is a fee for some; additional functions inside the plugin.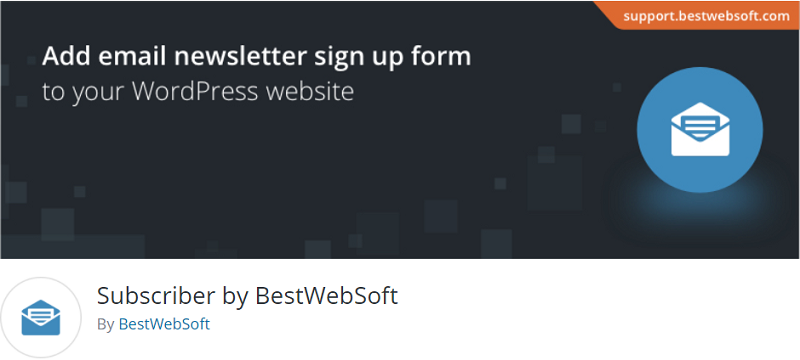 A convenient, easy-to-use plugin that helps you collect information about your customers. It creates an electronic form that collects customer data for subscribing to the newsletter. Contains all the basic functions related to subscribers, which you can easily configure. Subscriber is for you if you want to start communicating directly with your audience.
Pros
With this plugin you can add unsubscribe link and additional text to email template;

It allows you to sort your subscribes by subscribed, blacklisted, trashed;

Subscriber compatible with the latest WordPress version and have. incredibly simple settings for fast setup without modifying code;

There is a function of notifying the administrator by e-mail about new subscribers;

There is the ability to add custom code in the plugin settings and there is a detailed step-by-step instruction and video.
Cons
Many features are available only in the pro version;

Narrowly focused plugin, not suitable for those who want a lot of functions in different directions in one plugin.

Conclusion
This article was written to give you an idea of the pros and cons of the best plugins you think you have, and we hope this article was useful to you and you were able to choose the right plugin for you. Customize your site and start attracting visitors.