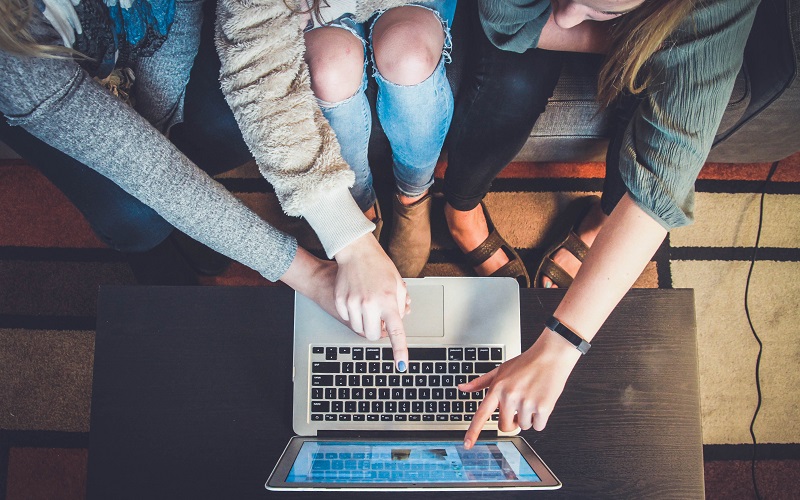 Website translation for search engines has become a necessity today. Since most of the traffic comes from search engines, the answer to why a multilingual website is so important to your site is so obvious. Don't you think that a multilingual website can do miracles?
It is always good to communicate with users in their own language. This possibly can bring you more traffic. To do this, you need a multilingual website. This will help you perform better in search engines targeting a specific country and market. A successful multilingual website can bring you many great results. Therefore, it will be beneficial to get an affordable website translator for your organization.
Users want to communicate and meet online in places that reflect their customs, culture, and identity. Companies that understand this and adapt to this need can reach out to markets far beyond their home country. They can build a user base around the world by simply speaking the local language, and they can interact and forge relationships with an increasingly diverse audience.
Advantages of Website Localization
By localizing websites, companies can reach more users' attention, expanding their consumer base each time they are tailored to a specific region.
A language is a powerful tool when it comes to building customer loyalty and entering new markets. When you develop websites in local languages, your international users know that you are serious about their needs.
Website localization by adjusting website layouts also leads to a better understanding and personalization of the online user experience. Not only the text has to be translated into the local language, but the multilingual website also needs to be adapted in terms of style, content, and design (taking into account cultural nuances).
Simply going global through localization can provide your business with many new leads and increase your business bottom line. In fact, expanding your customer base is the most profitable way to increase your business revenue.
The BestWebSoft's Solution
You may ask: Is it expensive for me to localize my WordPress site? The good news is that you can get started for free. The Multilanguage plugin from BestWebSoft is available to everyone at wordpress.org. The Pro version offers advanced functionality and is compatible with popular page builders.
In this introductory-educational article, I'll show you some cool plugin features that you might be interested to know and use.
Auto-Translation
First of all, I'll answer the most popular question: Can the Multilanguage plugin translate content automatically? – Of course, it can! How does it do it? Let me show you.
First of all, you need to install and activate the plugin. After that, to activate the possibility of Google automatic translation you need to open the plugin's settings page on your WordPress admin dashboard and enable the "Google Auto Translate" option and save changes.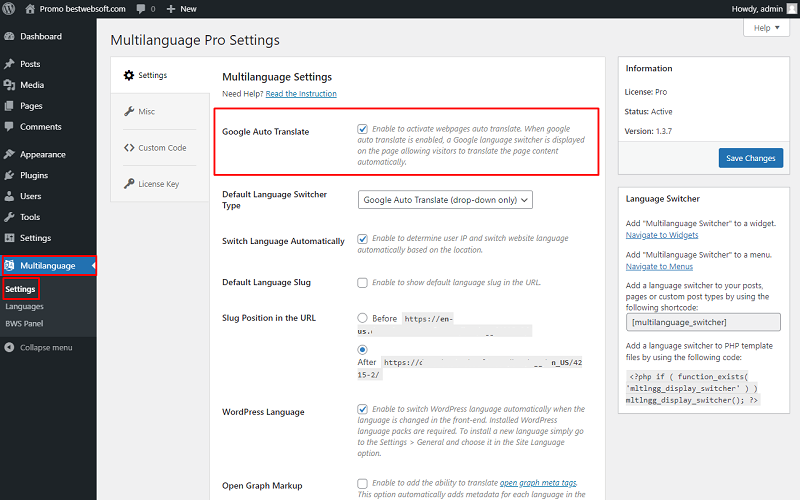 That's almost all, we just need to select the switcher type and add a language switcher to the menu – you can find how to do it using the Multilanguage User Guide, or anywhere else on the website using a shortcode.
When the shortcode is inserted and the changes are saved, you just need to select the language and the whole page will be translated.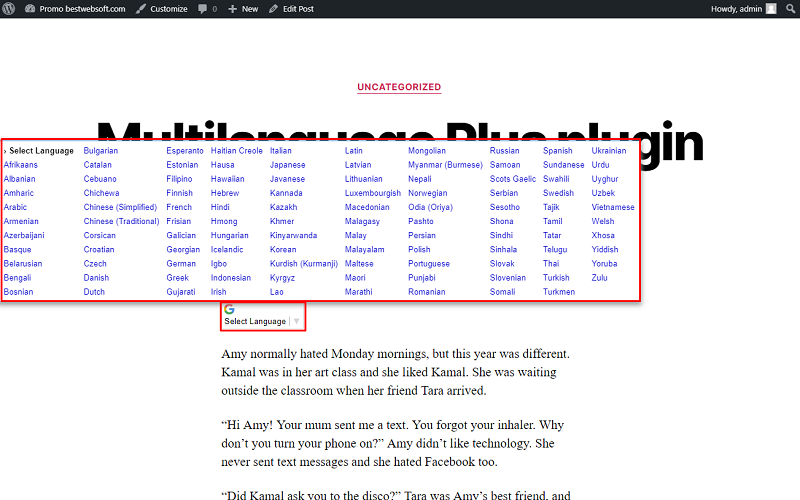 This is what an automatic translation into Norwegian would look like, for example.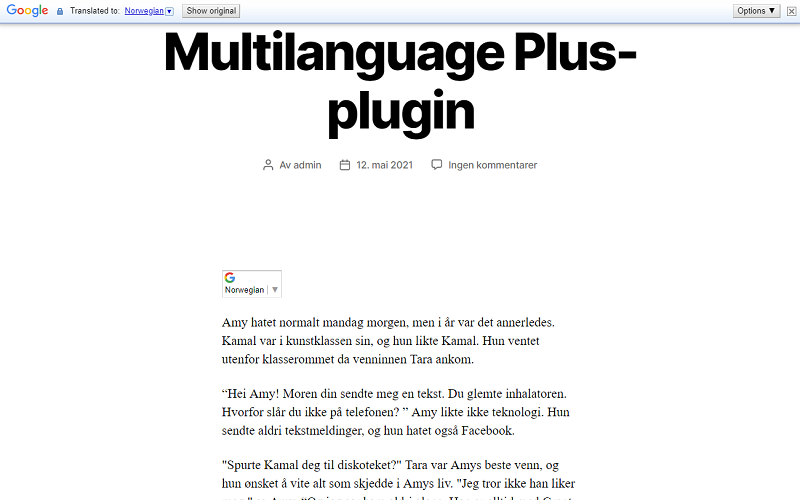 Manual Translation
Of course, you can create a better version of the translation yourself by translating the text with your own hands. To do this, you need to go back to the plugin settings and turn off the Google Auto Translate option. Then return to the page that needs translation, open it in the Edit Mode and select the tab with the previously added language at the top of the page, in which you can translate the content, modify it so that it matches the intended language.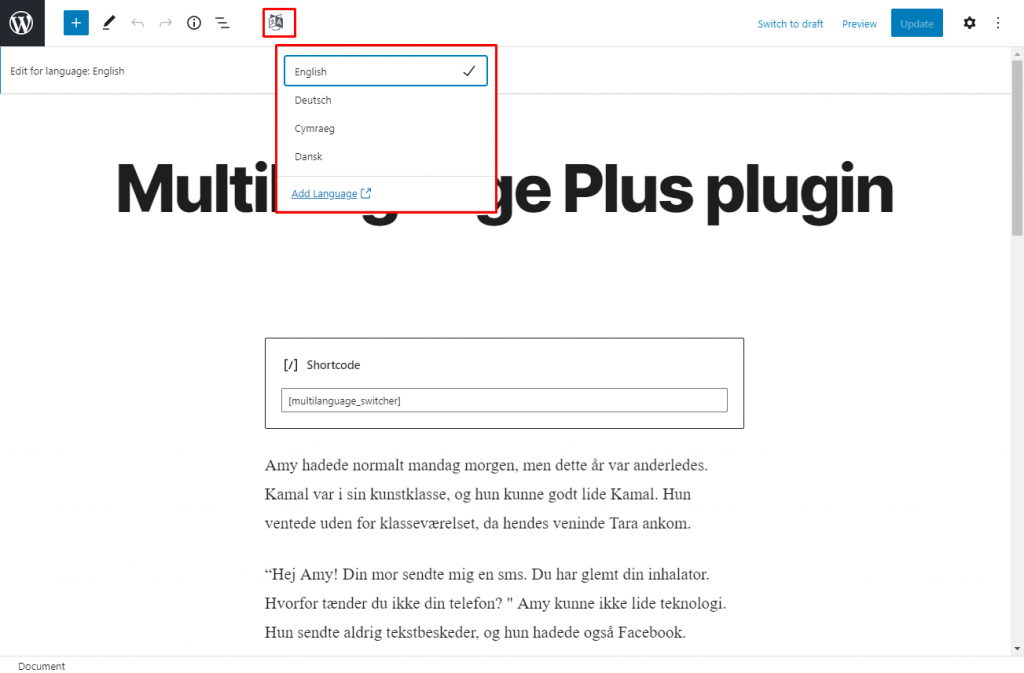 Thus, the plugin allows two ways to translate content on web pages. Each of them has its own advantages. Automatic translation is a faster way to make your website multilingual, but it has disadvantages in the weakness of translation inaccuracies. Manual translation has the advantage of being able to create unique content for each language, but the disadvantage is that it takes a lot of time and effort to translate a large site.

Conclusion
Sooner or later, companies start thinking about expanding and entering new markets. To be successful in today's globalized world, localization is vital. Tailor your product to specific local customer groups and accelerate the user experience. These few plugin setting tips will help you save time and money on your way to a localized website.
Ready to localize your website? Download the Multilanguage plugin for WordPress and try it yourself.