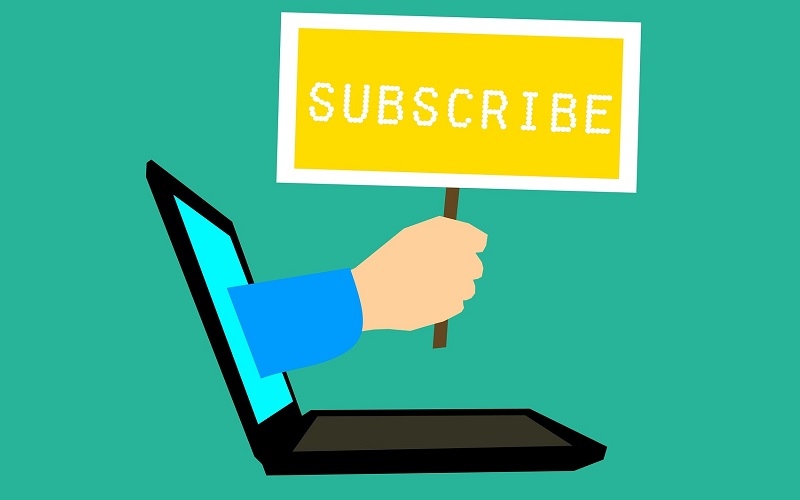 Adding a subscription form to your website, whether it's signing up as a member of your website or signing up for a newsletter, is one of the best ways to build customer or community loyalty. However, since filling out the form requires some action on the part of the visitor, it can be difficult to convince them to do so. Here are some tips to help you improve your subscription forms and make them more effective.
Where to place your subscription form?
On your site
Make sure your signup form is accessible on every page of your website, either with a call-to-action button or directly by embedding a form block. Your home page, your online store or your blog are important pages where it is recommended to add a complete form.
On your webpage
Your subscription form should be placed in the most prominent part of the web page. As a rule, it is located in the upper right corner of the screen. In either case, you should place the form at the top of the page to enhance it so that visitors don't have to scroll down the page to get to it.
How to create an effective subscription form?
Persuasive arguments
Be concise and efficient. Your visitors should be convinced in just a few seconds of the benefits of registering as a member of your website or subscribing to your newsletter.
Consider these two points:
Design: Your form must be aesthetically pleasing, but above all, it must be clear and visible.
Body: Once again, be precise and direct, that is, clear, concise, and compelling. Your form should explain to visitors the benefits of subscribing to your website and/or newsletter. Try to get their attention with humor and originality.
Simplify your form
As we have already seen, the main difficulty with signature forms is the "effort" involved in filling them out: in a society that requires everyone to be increasingly competitive, people don't want to waste time. So it goes without saying that the simpler and clearer your form is, the less likely it is to discourage visitors from filling it out. By simplifying your forms, that is, by minimizing the number of fields and improving their appearance and clarity, you will increase your chances of attracting new subscribers.
Adapt your forms to page content
If your visitors want to subscribe to your website, it means that they are interested in your content. So you have to take advantage of their interest to try to convince them. In this context, good advice can be to customize the forms according to the theme of the page. For example, on the page that contains your blog, insert a subscription form highlighting some benefits, such as access to exclusive articles, or, if your form is on the page that contains your online store, increase the possibility of receiving first-hand information about promotions or new products.
Create call-to-action buttons
We will never stress the importance of call-to-action buttons. In fact, these buttons encourage visitors to take an action on your website, whether it's to read a guide, buy a product, or sign up for your newsletter. To be effective, your call-to-action buttons need to be clear, distinct, and prominent. Keep in mind that a simple change of colors can create amazing effects.
Tips to increase conversion rates
Directly add a full signup form to specific pages
Good advice for a better conversion of your visitors can be to insert the subscription form directly on the most visited or most relevant pages of your website: for example, on your home page, on your blog or online store. If you only add a call-to-action button, you are forcing your visitors to make an extra click, which can be daunting. Optimize your subscription sequence by making your form easy to access.
Be transparent
Build a relationship of trust with your visitors by giving them access to your website's privacy policy, as well as clearly and precisely indicating the frequency of your emails or, for example, the opt-out procedure.
Offer a bonus or discount at signup
You can offer a welcome gift in addition to the benefits of the subscription itself: for example, you can send a specific e-book or document, or even reveal insider tips.
Use gamification
One final tip to encourage your visitors to subscribe is to make the subscription process a game. Properly selected videos or dynamically changing pictures can attract the attention of the reader and increase the conversion of the form. It is important that the animation does not distract from the main action, but rather motivates it.
Conclusion
You now have all the information you need to create effective subscription forms to better engage your customers or community with the information provided. You can also create an effective subscription form using the Subscriber plugin by BestWebSoft.