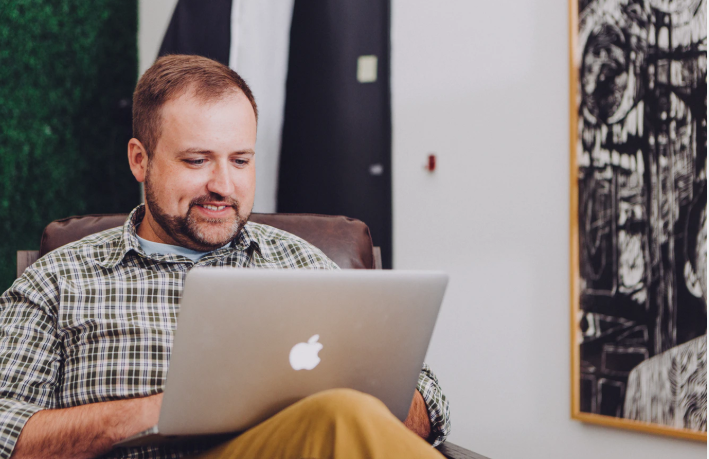 Indeed WordPress has a huge user management system, that is why a lot of people use it to create multi-author website blogs. There is a reason why WordPress user management is so powerful, that is because of its extended and high functionality. Usually, we get emails from users asking how sites have such a greater profile page or registration page. Sometimes those sites are adding more profiles fields in WordPress registration. Through this method, you can actually collect any additional information, also asking users if they would like to signup for your newsletter while registering.
The first thing to do is to install and activate Profile Extra Fields plugin. Once the plugin is activated go to settings to configure the plugin options. The simple plugin helps to add more fields to the WordPress website user profile page checkboxes, radio buttons, text, date, time and phone number fields. It is easy to add and display extra information about WordPress users.
Main Features of Custom Fields to The User Profile:
You can use a shortcode to display user data on your page or post.

You can choose user data rotation on page or post.

Form validation message for.

You can choose an extra field type.

Customize extra fields.

You can add an unlimited number of extra fields (Pro features).
1. Using Shortcode
Profile Extra fields allow displaying of the user data on page or post. This custom extra field comprises of all user data, logged in user data, certain user role data, certain user data current user data and display certain fields via the shortcode. You can display profile extra fields via the shortcode. It also helps export all user data to a CSV file and user data shortcode settings.
2. User Data Rotation
The user data rotation allows you to display rows, columns, you can differentiate user data by user name in a table by ASC and DESC (ascending or descending order). You are also allowed to Display an empty field if you missed them. It has additional features like show user Id in the table. This is a feature many people like to use because it has made WordPress custom fields work much easier.
3. Form Validation Message
You can form or create validation messages for empty fields or unavailable fields. It allows you to enable or disable debug mode, which means you are able to detect errors and remove them easily. So what this does for you is that, if there are errors or mistake it automatically detects it very fast and let you know, and you are able to remove this errors detected to avoid future harm or damage to your work.
4. Choose Extra Field Type
Choosing extra field type is very easy and simple, this allows you to text field, text area, checkbox field area, drop-down list. There are fields for date, time and phone number. All these field types make your work much easier.
5. Customize Extra Fields
This feature allows you to create extra fields such as name and description. Chose the maximum length for text and numbers in the appropriate fields. This feature allows you to set required field symbols if any. There is also an incredible setting for fast setup without modifying codes. That is to say, this setting will help you to set up everything without any codes used. Even if you make mistakes you will be corrected at some point, do not forget to always ask for support, in case you are finding difficulty.
6. Unlimited number of extra fields
You can also subscribe to Pro feature, which comprises everything we discussed above and gives you access to compatibility with Woocomerce such as registration form checkout billing form with an unlimited number of extra fields. You can also get an answer to any question within one business working day. The Pro feature allows you to give access to an unlimited number of extra fields, which allows you to carry out your work with ease and there are also support systems, ever ready to help you, just in case you need one. There is a responsive system waiting to meet your needs.
How To Add Custom Fields Using Profile Extra Fields plugin
There are a few steps you can follow, on how to add Custom Field using The Profile Extra Fields Plugin. We will try to discuss these steps with you also using a descriptive image. follow these steps and you won't regret it. Many people have made lots of mistakes which we will want you to avoid if you follow the steps below.
Download the

Profile Extra Fields

plugin, as shown in the picture below. We recommend you to download Profile Extra Fields Plugin as it is one of the best custom fields adder.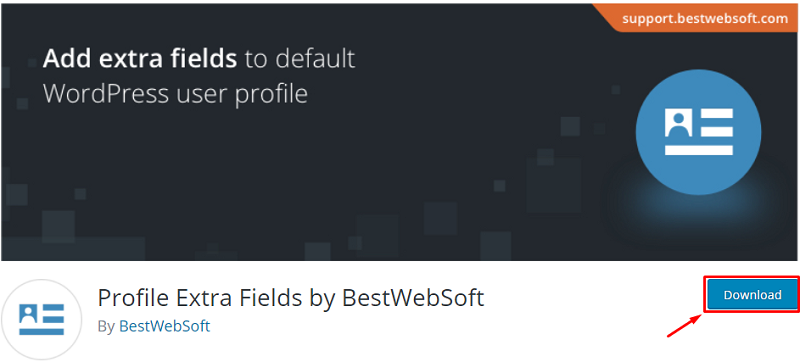 Open your WordPress page, then click on plugins is seen in the picture below, then you will be taken to a page where you have to activate the plugin.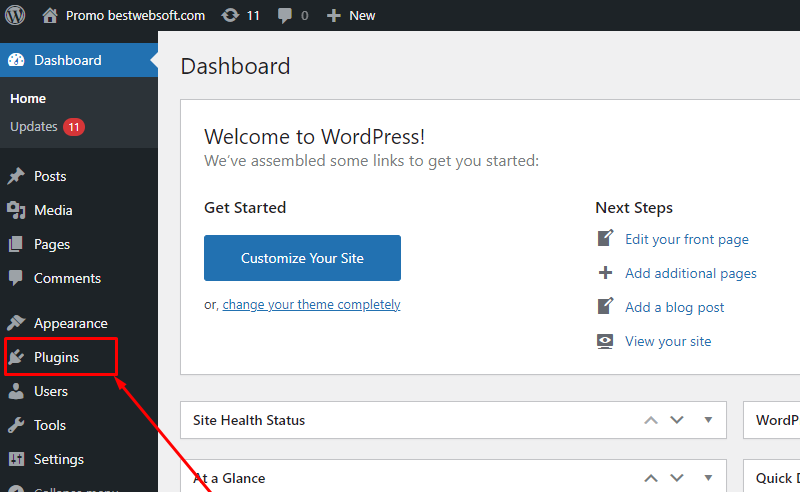 Activate the BestWebSoft plugin, by clicking on Activate as seen in the picture below. You will see a little change in the interface, which will include setting.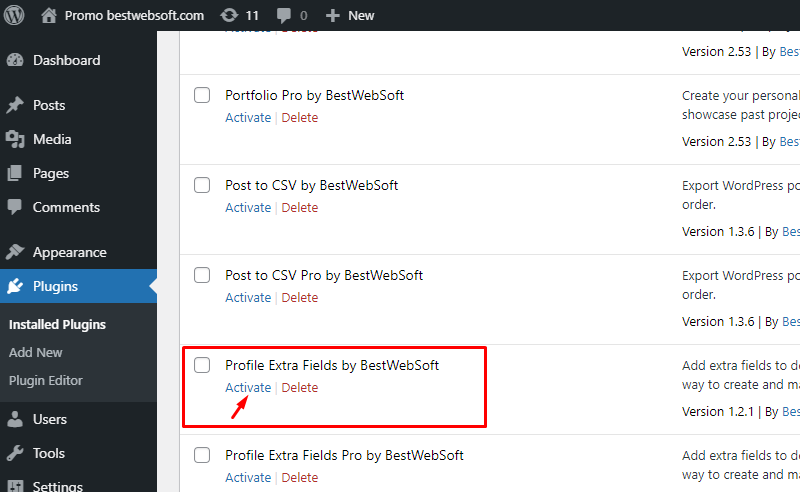 On the Dashboard, click the Profile Extra Fields > Add New.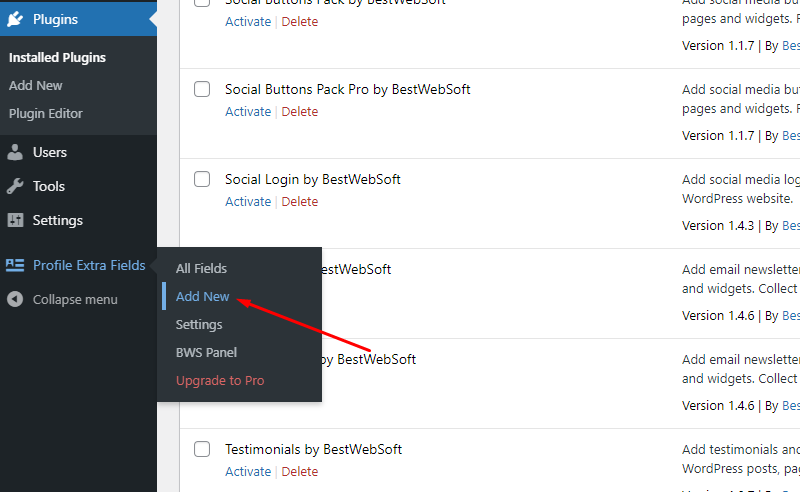 Set up the new field according to your needs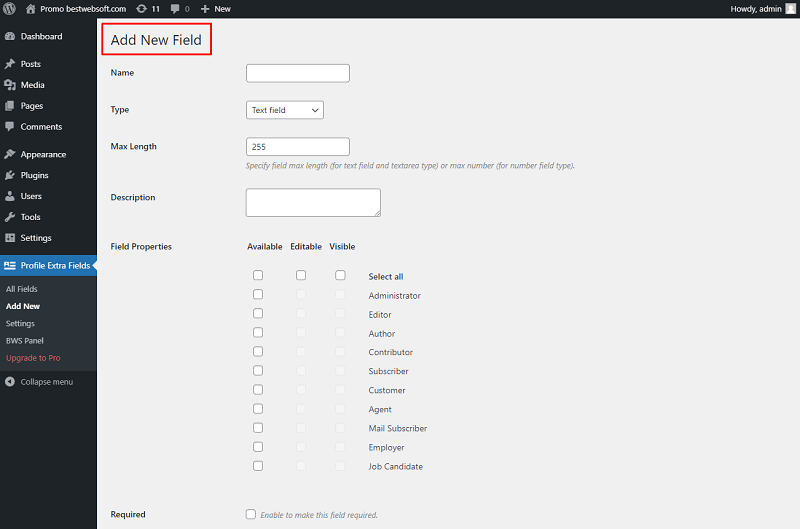 After setting new field don't forget to save your changes.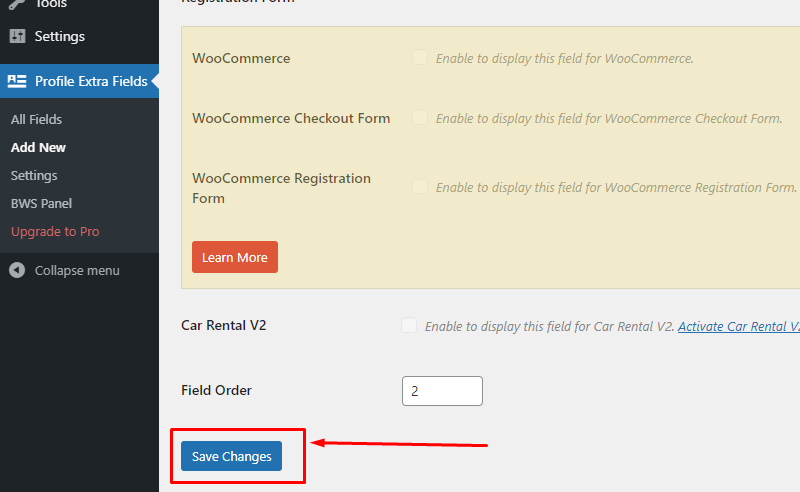 8. You can go to the Pro Version where you will have more features for your work. The Pro options let you add fields to the WooCommerce user profile and Checkout page.
And also add and edit custom fields directly on posts and pages using a shortcode. This is convenient for users, since there is no need to go to the admin panel.

Conclusion
In summary, we will also recommend the Updater plugin which will automatically check and update WordPress website core with all installed plugins and themes to the latest versions.
Also, User Role plugin is a very powerful user role management plugin for the WordPress website. Create, edit, copy, and delete user roles.